SK Telecom launches world's first Korean language-based portable AI speaker -NUGU Mini
SK Telecom today announced the launch of an outdoor version of its AI speaker – NUGU Mini n South Korea. NUGU Mini is a smaller and portable version of NUGU, an AI speaker the company launched in September 2016. As of July, 2017, SK Telecom has sold over 150,000 units of NUGU. Offering the same features as NUGU, the portable speaker supports more than 30 different features: It allows users to enjoy music (Melon), control home IoT (Smart Home), manage schedule, check weather, control IPTV (B tv), check traffic information, and order food delivery. NUGU refers to SK Telecom's an artificial intelligence (A.I.) service based on voice recognition technology as well as its first voice-activated AI speaker.


SKTelecom has newly introduced five different capabilities to NUGU Mini, including financial service (KB Kookmin Bank, KEB Hana Bank), movie information service, Korean-English dictionary, audio book service (Audien), and enhanced two-way communication service. The newly added financial service enables users to get information on financial products, inquire about foreign currency exchange rates, and even get a queue ticket before visiting a bank branch. Also, when a user says that he/she is bored, the device will suggest a fun game or a quiz.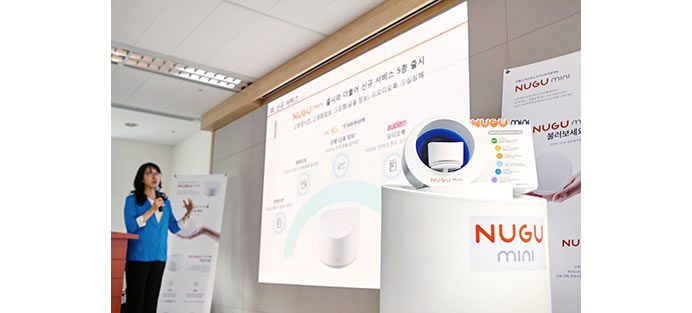 As NUGU is designed to evolve by itself, it will be able to strengthen its own performance – including speech recognition accuracy – with the growing number of customers. As the number of conversations stored in the NUGU's cloud sever has exceeded 130 million, NUGU's voice recognition rate has significantly increased for children's voice and dialects of the Korean language. NUGU Mini manufactures by iRiver, measures 84mm (W) X 84mm (L) X 60mm (H) and weighs only 219 grams, much smaller and lighter than NUGU. Built with a line out port, NUGU Mini can be connected to an external speaker.
---
---
---