Samsung WW8800M Washing Machine with QuickDrive technology speeds up laundry chores with an AI-powered intelligent assistance
Samsung today announced its revolutionary new washing machine technology QuickDrive set to be unveiled at IFA 2017 in Berlin. Samsung's QuickDrive technology cuts washing time by 50% and energy use by 20% without compromising the cleaning performance. Its unique Q-Drum consists of a large main drum and a plate in the back that rotates independently. Unlike conventional washers that move clothes repeatedly up and down over the course of the cycle, the WW8800M moves clothes from top to bottom in the drum, and the plate in the back of the drum introduces a back and forth movement. It creates a revolutionary dynamic action powered by double forces that quickly, gently and thoroughly remove dirt to deliver an intense and complete wash cycle.


Samsung WW8800M washing machine with Samsung's exclusive QuickDrive technology, dramatically reduce the time it takes to do a load of laundry in half. On its Super Speed setting, a daily load of laundry completes in just 39 minutes, offering consumers the time-saving solution they always wanted but never had, without compromising washing performance1, energy efficiency, fabric care and durability.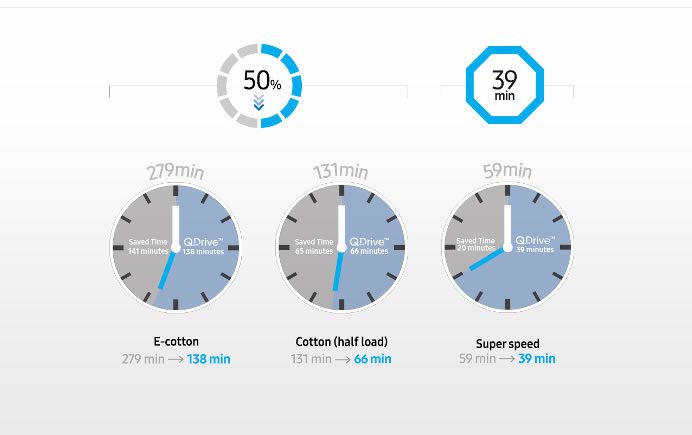 Samsung's unrivalled QuickDrive technology was independently tested by Intertek, the world's largest testing and inspection organization. Intertek confirmed that QuickDrive technology provides the same level of cleaning performance and fabric care as existing products, while reducing washing times.

The new WW8800M washing machine comws with many of Samsung's outstanding laundry technologies, like EcoBubble, which provides powerful washing performance by mixing air and water to generate fine detergent bubbles that penetrate fabrics faster and maximize the detergent's effects even at low temperatures.

The WW8800M washing machine comes with Samsung's innovative AddWash, a feature that gives users the ability to add items at any time during the cycle. The combination of the Q-rator and AddWash creates a synergistic effect that further enhances the user convenience, simplifying the laundry process.
---
---
---