ASRock announces Top Tier Z77 Extreme11 Motherboard

For those who haven't taken a leap to Intel's Z77 and Ivy Bridge combo yet, either you're cultivating self-discipline or you're planning to prey upon something big. Well, now is the big moment, because ASRock is releasing its beastlike Z77 Extreme11! This tiptop motherboard has 8 SAS2/SATA3 connectors supported by an LSI SAS2308 PCIe 3.0 x 8 controllers. For extreme graphics, 3-Way SLI/4-Way CrossFireX is supported via a PLX PEX 8747 bridge.



The onboard Intel Dual LAN chips support teaming function, while there is also a 2T2R Dual-Band WiFi & Bluetooth v4.0 Module which supports WiFi a/b/g/n, dual band 2.4/5 GHz and of course, Bluetooth 4.0. The WiFi module comes with ASRock's exclusive Wi-SB BOX for you to connect the WiFi antenna and two USB 3.0 ports.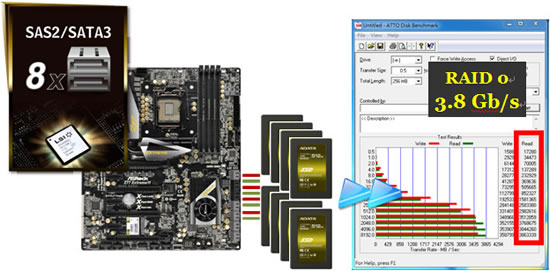 Besides the two native SATA3 and four native SATA2 ports, Z77 Extreme11 has eight additional SAS2/SATA3 ports powered by an LSI SAS2308 PCIe 3.0 x 8 controllers. The abundant SAS2/SATA3 ports support RAID 0, RAID 1, RAID 1E, RAID 10 and MegaRAID utility. Moreover, users may get up to 3.8Gb/s transfer speed through 8 SSDs in RAID 0 mode.


Specially designed for computer enthusiasts, Z77 Extreme11 possesses unbeatable hardware and extreme powers waiting to be unleashed. ASRock Z77 Extreme11 has a PLX PEX8747 bridge embedded for building 3-Way SLI/CrossFireX in x8/x8/x8 mode or 4-Way CrossFireX in x8/x8/x8/x4 mode. ASRock Z77 Extreme11 is ready with a total of twelve speedy USB 3.0 ports.
---
---
---