ASRock Introduces an easier way to connect your devices to a monitor- A-Style: HDMI-In

Cables and wires amount to sheer havoc once accumulated to multitudes that may trip or strangle people. It's also frustrating when one constantly needs to sought through heaps of tangled cables in order to swap to different devices that share the same monitor. Well, good news is from now on with ASRock's A-Style: HDMI-In, you may connect both your monitor and secondary device to your motherboard, and then toggle between the computer's screen and the secondary device's screen with a hotkey.


HDMI-In can be applied to any device with an HDMI output, such as laptops, smartphones, handheld game consoles and video game consoles. Plus, it works even if your computer is powered off. Hence, no more cable unplugging and plugging is required. Moreover, you won't need to deal with that murderous mass of wires lying behind your computer, or at least not yet.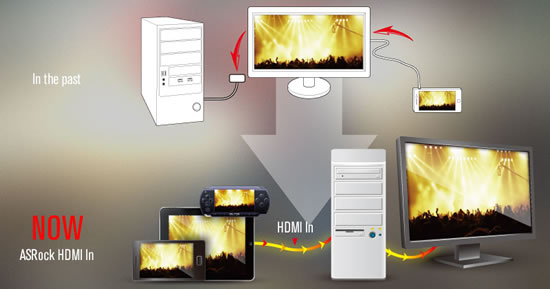 ---
---
---