Asus announces Pocket-sized sound card Xonar U3 Plus with built in headphone amplifier
Asus today announced the Xonar U3 Plus, a pocket-sized USB-powered sound card with a 150-ohm headphone amplifier, studio-grade vocal effects and a full suite of audio enhancements. The pocket-sized Xonar U3 Plus supports real-time microphone audio recording, with a digital signal processor (DSP) that provides extremely-low microphone latency. Xonar U3 Plus features a suite of studio-grade vocal effects including a dedicated 10-band equalizer, precision low- and high-frequency filters, as well as reverb adjustment to add a sense of environmental space.


Asus Xonar U3 Plus has a high-performance headphone amplifier with adjustable gain levels that can drive up to 150ohm-impedance headphones and headsets. It enhances treble and bass to add dynamic details to low and high frequency sounds like explosions and footsteps in movies or games. Stereo Mix allows users to mix vocals and music tracks easily, while the DJ Mix tool features a ducking effect that automatically reduces ('ducks') the volume of a background audio track when vocals are present, allowing users to create professional-sounding podcasts.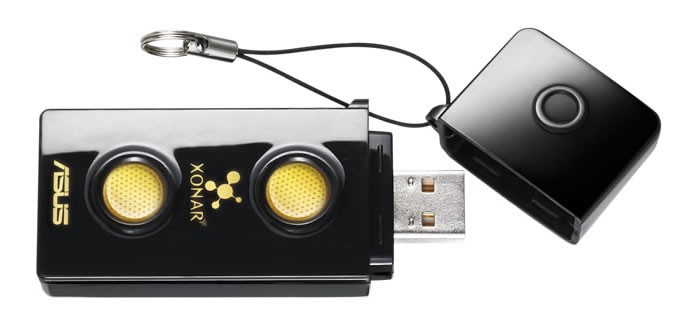 Asus Xonar U3 Plus also features five pre-set audio modes (Rock, Rock Pro, Ballad, Ballad Pro, and Special) that have been specially-tuned and calibrated by Xonar engineers, so users hear their favorite tunes in the way they were intended to be heard. The U3 Plus is the smaller version of the existing Xonar U5 and gaming-orientated U7 Echelon Edition with Sonic Radar. The Asus Xonar U3 Plus is designed for PC and notebook users who are looking for an easy-to-use solution that caters to their high-fidelity audio playback and home recording needs.
Asus Xonar U3 Plus Specs:
Signal-to-Noise Ratio (SNR): 100dB
Total Harmonic Distortion + Noise: 0.005% (-110dB)
Frequency response: 20Hz to 20kHz
Headphone impedance: Optimized for 32~150Ω
Interface: USB 1.1 or above bus compatible
Sample Rate and Resolution: Up to 48KHz @ 16bit
Connectivity: 1 x 3.5 mm jack analog out; 1 x 3.5 mm jack (Line-In/Mic-In combo); 1 x S/PDIF out (combo with analog out)
Operation system: 1/8/7/XP (32/64bit)
Karaoke functions: Music pitch-shifting, vocal cancellation, and microphone echo effects with stereo mix recording (Wave and Mic-in) for online Karaoke or online DJ applications.
---
---
---