Asus announces RT-AC3200 tri-band WiFi Router with six detachable external antennas
Asus RT-AC3200 is an AC3200-class tri-band wireless gigabit router that is engineered to overcome the Wi-Fi performance challenges of today's multi-device households. Asus RT-AC3200 has six detachable high-performance external antennas that power two concurrent 802.11ac 5GHz networks, each with a three-transmit, three-receive (3×3) antenna configuration. This innovative engineering gives RT-AC3200 blistering speeds of up to 1300Mbit/s (1.3Gbit/s) on each of the 5GHz frequency bands, for a combined total of 2600Mbit/s. Asus RT-AC3200 uses Broadcom TurboQAM technology to boost 802.11n 2.4GHz performance from 450Mbit/s to 600Mbit/s with compatible devices such as Asus PCE-AC68. This gives RT-AC3200 an incredible combined maximum concurrent data rate of up to 3200Mbit/s — more than three times the bandwidth of a wired Gigabit Ethernet network.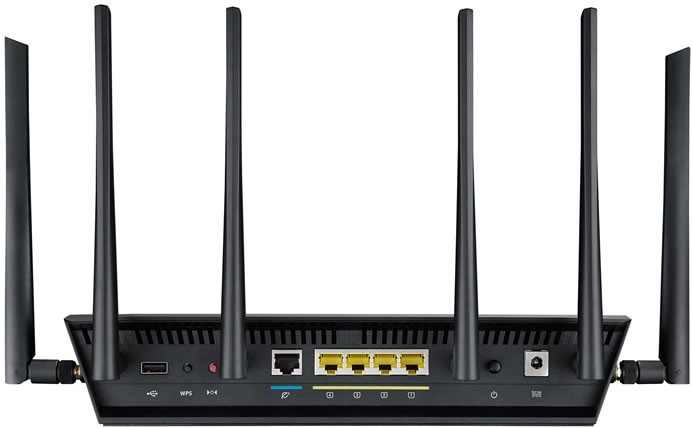 Asus RT-AC3200 also features Asus AiRadar with universal beamforming, adaptive Quality of Service (QoS), AiProtection with exclusive Trend Micro security and the brand-new Traffic Analyzer. RT-AC3200 has outstanding performance and coverage, and is the ultimate choice for complex home networks with multiple devices using a mix of older and newer Wi-Fi standards. RT-AC3200 also uses AiRadar universal beamforming and Asus-exclusive radio frequency (RF) fine-tuning to strengthen wireless connectivity and improve coverage, so users can enjoy stable and reliable connections.

Asus RT-AC3200 has powerful, easy-to-use features that help users manage network traffic for optimum performance. Traffic Analyzer is an exclusive new Asus WRT feature that gives users an at-a-glance view of what's happening on the network on a daily, weekly or monthly timescale. Users can see immediately how much bandwidth each user, device or application has used, helping them to reduce internet connection bottlenecks. Traffic Analyzer is also great for parents who want to keep an eye on their children's internet usage, or for small businesses who need to monitor employees' internet activity.
---
---
---