Asus announces whole-home mesh networking system – ZenWiFi ET8
Asus today announced a ground-breaking WiFi 6E mesh networking system designed to deliver seamless, high-performance WiFi to the entire home, the ZenWiFi ET8. Asus ZenWiFi ET8 incorporates Broadcom WiFi 6E technology, featuring a new 6 GHz frequency band with up to seven extra 160 MHz channels that massively increases device capacity and reduces network latency. As the 6 GHz band is exclusive to WiFi 6E devices, it's ideal for an interference-free backhaul connection, and users also have the choice of using wired Ethernet for backhaul.
Asus ZenWiFi ET8 is the mesh networking solution to today's device-dense households, bandwidth-hungry content and over-congested frequency bands. This flexibility, along with easy setup and management, makes ZenWiFi ET8 the system of choice for discerning users looking for state-of-the-art whole-home WiFi. ZenWiFi ET8 offers protection both inside and outside the home. Outside the home, Asus Instant Guard makes any public WiFi connection secure using a remote VPN connection to ZenWiFi ET8. At home, Asus AiProtection Pro, powered by Trend Micro, provides parental controls and full network security for all connected devices.
The Asus ZenWiFi ET8 system consists of a matched pair of attractively styled Asus AXE6600 routers, featuring WiFi 6E technologies to deliver superfast, reliable and secure WiFi connections. ZenWiFi ET8 is fully backwards compatible with all existing WiFi standards, and
ZenWiFi ET8 supports the newly licensed 6 GHz frequency band, which is reserved exclusively for WiFi 6E devices, giving them ultrafast, congestion-free connections. WiFi 6E dramatically increases network capacity, with up to seven extra 160 MHz channels on the 6 GHz band.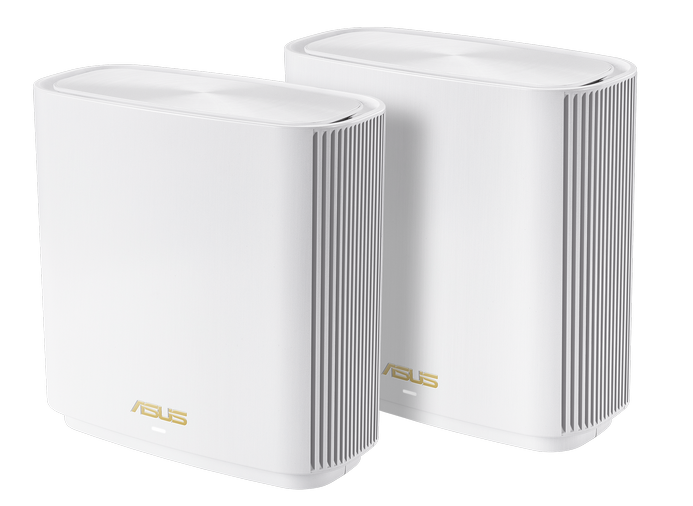 ---
---
---