Asus announces World's first AC2400-class dual-band 802.11ac wireless router
Asus today announced RT-AC87U, world's first AC2400-class dual-band 802.11ac wireless router with a four-transmit, four-receive (4×4) antenna configuration. The 4×4 antennas improve coverage by up to 33% compared to standard 3×3 models, and typically RT-AC87U can effortlessly cover an area up to 465m2, making it ideal for eliminating 'dead spots' in large or multi-floor environments. This stunningly-designed, easy-to-use router is also the first in the world to employ multi-user MIMO (MU-MIMO) technology. At the heart of RT-AC87U is the latest Quantenna system-on-a-chip (SoC), featuring its own powerful dedicated dual-core processor that handles all 802.11ac Wi-Fi-related computations.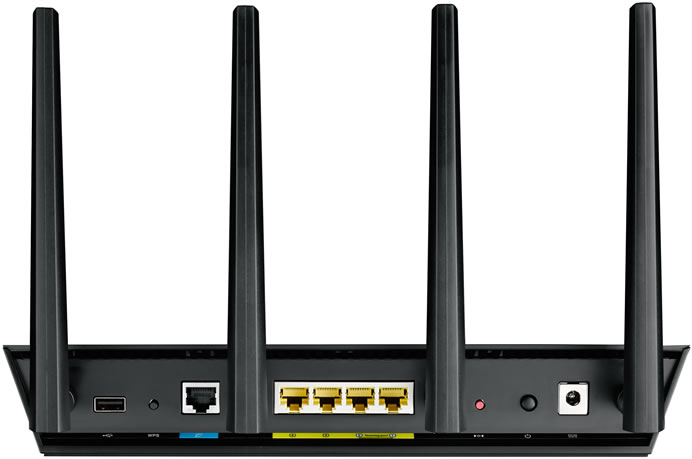 Asus AC2400-class RT-AC87U has blistering 1734Mbit/s 802.11ac speeds on the 5GHz frequency band — faster than wired Gigabit Ethernet — and uses Broadcom TurboQAM to boost 802.11n 2.4GHz performance from 450Mbit/s to 600Mbit/s with compatible devices such as Asus PCE-AC681. This gives RT-AC87U an amazing combined maximum concurrent data rate of up to 2334Mbit/s.

Offering 5GHz speeds that are faster than wired Gigabit Ethernet, along with class-leading 2.4GHz speeds and reliable multi-floor coverage, Asus RT-AC87U is the perfect choice for discerning users with busy multi-device home networks who need extreme coverage, lightning-fast performance, rock-solid stability and total peace of mind.
---
---
---