Asus unveils USB-N66 Dual-Band N900 USB Wi-Fi Adapter with orthogonal antenna design

The Asus USB-N66 dual-band N900 USB Wi-Fi adapter delivers fast 450Mbps connectivity in 2.4GHz and 5GHz, easily supporting different styles of online usage, from daily web browsing to intense HD streaming and gaming. Patented orthogonal antennas within an artistic pyramid shape contribute to a highly attractive product that boosts signal quality and extends wireless range.



The hardware high/standard power mode switch offers another Asus exclusive design that better caters to the diverse needs of different user segments. While standard power mode delivers fast wireless across average home usage ranges, high power mode provides up to three times the output and 150% greater range to overcome the limitations of distance and other obstacles.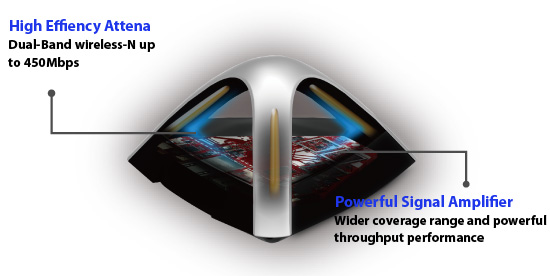 The pyramid-shaped design of the Asus USB-N66 serves a dual purpose, having been custom-crafted by ASUS research and development. On the one hand, it offers an artistic touch with a completely unique form among wireless networking devices. At the same time, the pyramid shape has allowed engineers to fit three patented orthogonal antennas in the USB-N66, which provide lessened cross-antenna interference and improved signal coverage. Combined with user-friendly design, the USB-N66 affords an instant upgrade to the wireless capabilities of any desktop or notebook PC, whether at home, the office, or on the road.


Perfect for sharing internet connections with colleagues while on a business trip, the USB-N66 features software AP capabilties that enable you to create a small WLAN environment and connect to the internet via ICS (Internet Connection Sharing). Together with ACL (Access Control List), this lets you easily manage access privileges and quickly turn your PC into a wireless access point.

---
---
---