Asus Z97-Pro Gamer ATX motherboard delivers pure gaming fun with M.2 and SATA Express connectivity
Asus today announced Z97-Pro Gamer, a high-performance ATX motherboard with 10Gibt/s M.2 and SATA Express connectivity, Intel Gigabit Ethernet, exclusive SupremeFX audio with Sonic Radar II and GameFirst ll and LANGuard networking technologies to deliver pure gaming fun. The Intel Z97 chipset-based Z97-Pro Gamer also benefits from Asus Gamer's Guardian, a collection of components hand-chosen for exceptional safety, durability and performance to protect gamers' backs, and is the latest addition to the popular ASUS Gamer motherboard series.


Asus Z97-Pro Gamer is equipped with Intel Gigabit Ethernet and Asus-exclusive LANGuard for faster, smoother and more reliable gaming sessions. LANGuard employs advanced signal-coupling technology and premium surface-mounted capacitors to improve throughput, and includes both surge protection and electrostatically-guarded components to defend against lightning strikes and static-electricity discharges.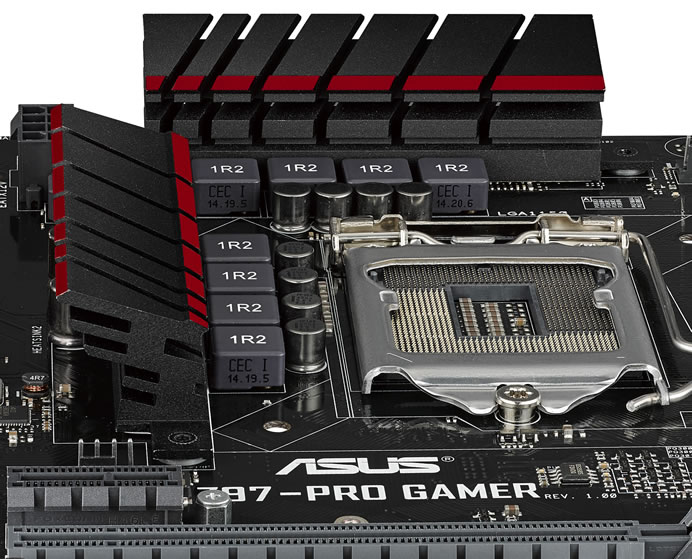 Asus Z97-Pro Gamer also has Asus-exclusive GameFirst II technology, an innovative traffic-shaping technology that reduces lag significantly by prioritizing game-related data. Tests by ASUS engineers show that latency is greatly reduced — ping times are up to eight times (8X) faster with GameFirst II enabled. GameFirst II's EZ Mode allows everyone to take advantage of low-latency gaming, with no need for expert knowledge.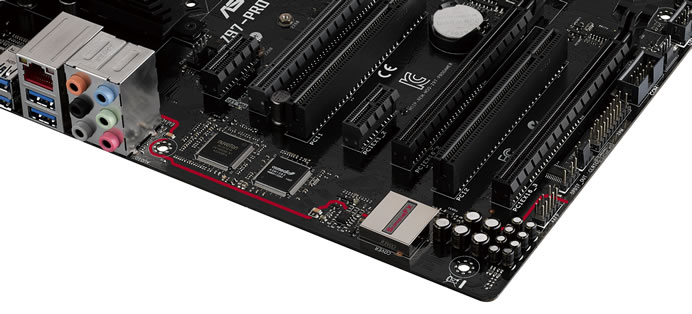 Players gaming with Z97-Pro Gamer-based systems enjoy SupremeFX technology for near-lossless audio with a remarkable signal-to-noise ratio (SNR) of 115dB that enhances every sound detail. Exclusive 'red-line shielding' horizontally separates SupremeFX audio components from the rest of the motherboard. This unique combination effectively eliminates analog interference to ensure flawless sound quality. SupremeFX also has a built-in amplifier that drives high-quality headphones — all the way up to 300ohm impedance — for sound quality that's as great as a dedicated sound card.

Asus Z97-Pro Gamer has the fastest consumer-storage connectivity, with both SATA Express and M.2. on board. SATA Express provides data-transfer speeds of up to 10Gbit/s from two PCI Express 2.0 (PCIe 2.0) lanes. The new motherboard's built-in M.2 socket also offers two native PCIe 2.0 lanes for data-transfer speeds of up to 10Gbit/s, giving Z97-Pro Gamer owners the freedom to choose their preferred method to speed up both their storage and gameplay. Asus Z97-Pro Gamer is engineered with high-quality, highly-durable Gamer's Guardian components for exceptional real-world protection for extended gaming sessions.
---
---
---