ASUS XG Station world's first external graphics card station for notebook computers
ASUS today launched the XG Station as the industry's first public demonstration of the world's first external graphics card station for notebook computers. Equipped with Express Card interface, USB 2.0 and Dolby headphones, the XG station seamlessly integrates notebook computing with PC graphics power.The Asus XG Station is the world's first docking station to provide a standard PCI Express slot for additional graphics computing power on notebook computers with Express Card slot, delivering VISTA Premium performance. The device also conveniently accommodates future graphics technology such as, HDCP and HDMI upgrades possibility. Lab experiments on a notebook based on Intel 945GM graphics connected to the XG station with a ASUS EN7900GS graphics card showed an astounding 9 times faster acceleration. A large LED screen provides clear display of critical system status statistics such as- System master volume, GPU clock speed, Current GPU temperature, Dolby Headphone feature status, Current actual Frames per Second (FPS) information and GPU fan speed Indicator.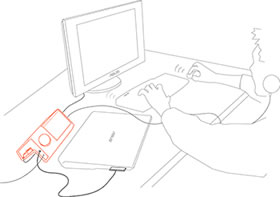 With Dolby Headphone technology any headphone is capable to delivers cinematic 5.1-channel surround sound for a dynamic true-to-life quality during PC game play and music or video playback. The Asus XG Station is currently scheduled to be released at the beginning of Q2 2007. A full package will include the XG Station graphics docking station, one ASUS EN7900GS graphics card and assorted accessories.
---
---
---