Cooler Master launches V6GT CPU cooler with a built in LED strip on the top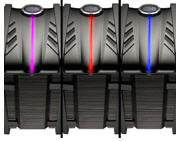 Cooler Master V6GT CPU cooler follows in the footsteps of the revolutionary V8 and V10 CPU coolers from Cooler Master. Designed with a muscular engine look, the V6GT fits nicely with any performance hardware. The Cooler Master V6GT packs a range of great features as standard, such as the use of a Double-V heatpipe design, twin 120mm DynaLoop PWM fans and support for multiple CPU sockets. The fans used on the V6GT uses a new type of bearings known as DynaLoop which extends the life of the bearings to 40,000hrs. The new wave shaped fan blades features PWM fan control which further helps reduce the noise from the fans when the CPU is idle or under a low load.

The fans operate at between 800 and 2200rpm and produce an airflow of 34 to 94 CFM per fan, yet the noise level is only a mere 15 to 38dBA.The top of the V6GT has been equipped with a cover that houses an LED light strip and you can set the colour to blue, red or purple by simply adjusting the "engine oil cap" dial on the top of the cooler.
---
---
---