EIZO announces its first frameless design 27-inch 4K monitor
EIZO today announced the release of the FlexScan EV2785, its first 27-inch 4K monitor and one featuring a frameless design and USB Type-C connectivity. The monitor has a virtually frameless design with 1 mm bezels on the sides and top and 5.8 mm on the bottom, making it perfect for multi-monitor environments and distraction-free viewing. FlexScan EV2785The 27-inch monitor has an Ultra-High-Definition (UHD) resolution of 4K (3840 x 2160 pixels), for a super fine pixel pitch of 163 ppi.


The FlexScan EV2785 comes in either black or white with matching cables, and features a new speaker design. With previous frameless models, the speakers emitted sound from the back of the monitor due to the housing design. With the FlexScan EV2785, they emit sound from the front while maintaining a frameless design for clearer, more direct sound without distracting people sitting behind the monitor.


The 27-inch 4K monitor uses USB Type-C, where a single cable transmits video, audio, and USB signals and supports a super speed transfer rate of up to 5 Gbps. The FlexScan EV2785 can supply up to 60 watts of power for recharging notebook PCs and other devices via one USB Type-C cable, eliminating the need for separate power cables. The clarity of images and convenience of USB Type-C makes the monitor perfect for conventional office and CAD use, as well in 'free address' offices where workers frequently move around.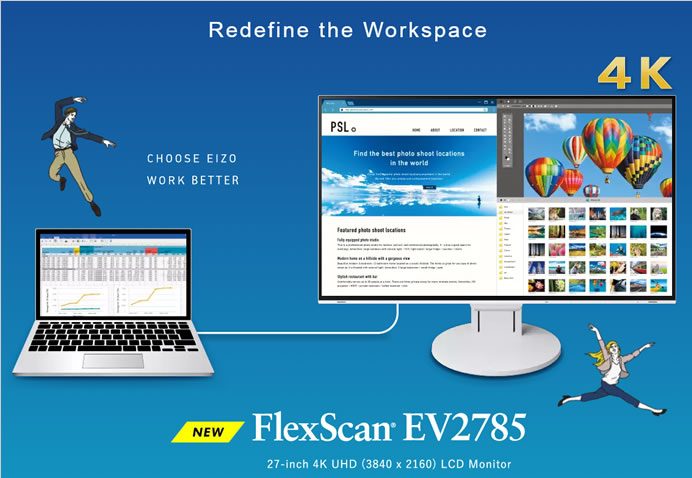 ---
---
---