EIZO Expands Lineup of USB Type-C Monitors with 2560 x 1440 Resolution 27-Inch Frameless IPS Monitor
EIZO today announced the release of the FlexScan EV2781 – a 27-inch, frameless IPS monitor with 2560 x 1440 resolution equipped with a USB Type-C terminal. The EIZO FlexScan EV2781 is the first New Standard monitor to offer a high resolution of WQHD (2560 x 1440 pixels) in a large 27-inch screen size. This is 1.8 times more screen space than conventional Full HD (1920 x 1080 pixels) monitors, which provides more comfortable display of multiple windows for efficient multi-tasking.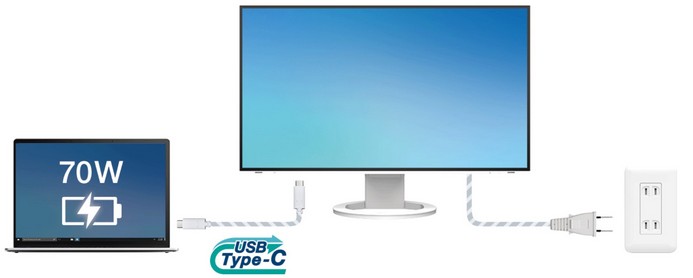 The EIZO FlexScan EV2781 joins EIZO's line of FlexScan New Standard business monitors which offers a range of sizes from 23.8 to 31.5 inches and features USB Type-C connectivity. A USB Type-C connection allows users to display video, playback audio, transmit USB signals, and supply 70 watts of power to connected devices, such as laptop computers. With many modern laptops designed for portability, this convenient connectivity makes it faster and easier to connect in hot desking environments or when working away from the office.

The EIZO FlexScan EV2781 monitor comes with the Picture-by-Picture (PbyP) function, which enables two PC inputs to be displayed simultaneously on the screen. The PbyP makes it simple to compare data with a coworker side by side, as well as share information from multiple sources on a single screen. As part of EIZO's commitment to care for the environment, the EV2781 is made of 61% recycled plastic. The monitor is safely packed using molded pulp, which is made from recycled cardboard and newspaper, and cables are wrapped in paper instead of plastic bags.
The FlexScan EV2781 is certified by worldwide comprehensive sustainability standards including TCO Certified Generation 9, EPEAT, and EnergyStar. The FlexScan EV2781 monitor implements a virtually frameless design for a minimalistic aesthetic. In addition to sleek black, the cabinet is available in white for a color option that keeps the workspace feeling bright. The monitor also comes with a stand and cables that match the cabinet for full color coordination. The EIZO FlexScan EV2781 will begin shipping in July.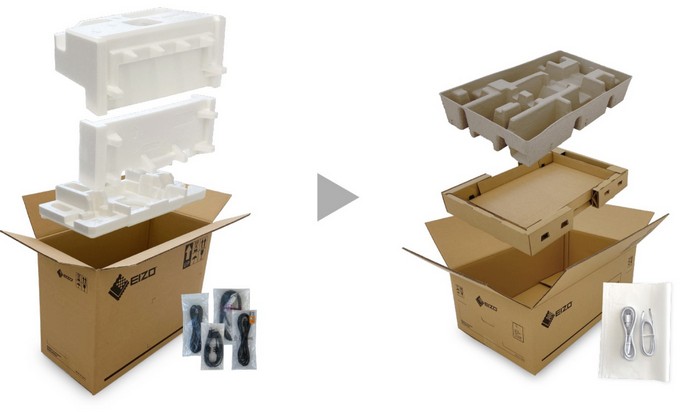 ---
---
---