EIZO releases world's first 240 Hz gaming monitor

EIZO today announced the 23.5-inch FORIS FG2421, the world's first gaming monitor with a 240 Hz refresh rate. The FORIS FG2421 also features a low input lag and gaming preset modes that were developed with professional gamers to make it ideal for first-person shooter, racing, fighting, and other fast-action genres. The FORIS FG2421 is the first gaming monitor with a refresh rate of 120 Hz or more to use a VA (vertical alignment) LCD panel. The VA panel provides a wide viewing angle of 176° and a high native contrast ratio of 5000:1 for deep blacks. This high contrast ratio increases visibility in dark scenes making it easier to spot enemies. Two color modes for FPS (first-person shooter) and one for RTS (real-time strategy) games are included. The FPS and RTS modes were co-developed with professional gamers from Fnatic, a leading eSports team, to provide ideal brightness, contrast, and gamma settings. Three fully-customizable modes for users who want to import and export their own settings are also built-in.



The FORIS FG2421 comes with a new feature called Turbo 240 that surpasses the 120 Hz refresh rate of conventional gaming monitors. Turbo 240 converts 120 Hz signals to 240 Hz by controlling the blinking of the LED backlight. This high refresh rate along with a response time1 of less than 1 ms produces the smoothest image display available on a gaming monitor. Fast action games are often played at resolutions less than the monitor's native 1920 x 1080. To allow for using the full 23.5-inch screen, the user can enlarge the image while maintaining the aspect ratio or expand it to fill the entire screen.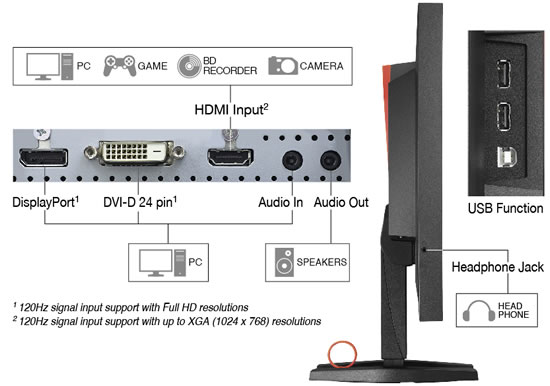 HDMI, DisplayPort, and DVI-D ports provide connectivity with PCs, consoles, Blu-ray players and cameras. A USB hub with one upstream and two downstream ports lets users connect peripherals such as a mouse and keyboard to the monitor. A line-out jack for connecting to external speakers and a headphone jack provide further functionality. The FORIS FG2421 is designed to provide viewing comfort over long hours of gameplay. With the Turbo 240 set to off, the FORIS FG2421 maintains a refresh rate of 120 Hz and uses EIZO's own hybrid technology for providing flicker-free images at any brightness level. A sensor on the front of the monitor detects the ambient brightness and adjusts the screen's brightness to the ideal level which saves energy and prevents eyestrain. The sensor can enabled/disabled by the user.
Technology behind the turbo 240 feature:-
---
---
---