Fujitsu develops easy way to transfer files with video of PC screens shot by mobile devices

Fujitsu today announced the development of technology that makes it possible to transfer files between a PC and a mobile device by simply using a mobile phone or tablet to capture a video of a file displayed on a PC screen. The new technology is based on Fujitsu Laboratories' previously developed intermediary image communications technology, which enables communication between a PC screen and a mobile device by superimposing invisible communications data into images that can be captured by a mobile phone camera.



By superimposing IP addresses and other device-specific information that is invisible to the human eye onto a PC screen in real time, the technology can identify the target PC when the user takes a video of the screen with a mobile phone camera. A communications path between the target PC and mobile phone then gets established and transfers the file displayed on the screen to the phone. This makes it easy to transfer a file with a simple image capture, unlike existing methods that require complicated operations, such as having users search for and select a file from the phone's file menu.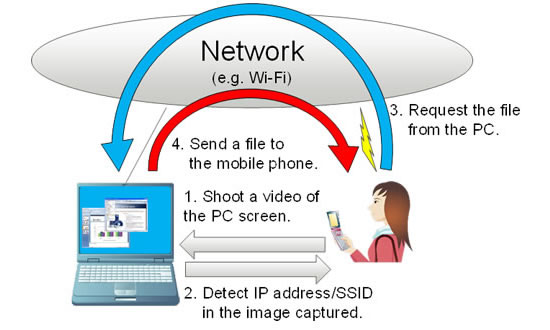 The technology is expected to lead to a variety of applications, such as forwarding photographs captured on a mobile phone to a PC or enabling multiple users to simultaneously download individual copies of presentation materials to their mobile phones during a meeting by shooting the screen displaying the presentation. Fujitsu plans to exhibit the new technology at Mobile World Congress (MWC) 2013, to be held in Barcelona, Spain on February 25-28, 2013.
Video:
---
---
---