Gigabyte announces two motherboards GA-6LXSV and GA-LASS for new Intel Xeon Processor E3-1200 V3 family

Gigabyte announced today in coordination with Intel's official launch, two initial models of single socket server/workstation motherboards designed for the brand new Intel Xeon processor E3-1200 V3 product family (former codename Haswell). Designed as an ultra-flexible ATX solution, Gigabyte GA-6LXSV motherboard is suitable for both tower and rack integration and fits in most of the professional applications scenarios thanks to its versatile connectivity and expansion platform. Server, workstation, industrial PC, high performance embedded system, this motherboard will be up to the task and deliver both performance and durability through its DIMM placement optimized for better thermal properties and robust build with the selection of high reliability components. The Gigabyte GA-6LXSV will support memory modules cadenced at 1866MHz, when other similar motherboards will support 1600MHz modules only.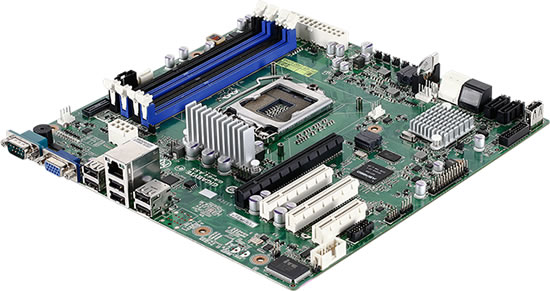 By combining a microATX format with the brand new Intel Xeon processors E3-1200 V3 family and all its latest technologies, Gigabyte GA-LASS board is a versatile solution for SMBs and independent professionals to build affordable yet high performing systems within compact rack or tower enclosures. From a mainstream intranet system performing standard tasks like file or print serving, a web server dedicated to a low traffic websites, a basic engineering or content creation workstation, to the building block of a computing grid or a render farm, the possibilities offered by this model equal its performance capabilities and make it a perfect candidate for a high value acquisition.
---
---
---