Gigabyte launches 3-in-1 versatile laptop U21MD with Dolby Home Theater
The 11.6" U21MD, a 3-in-1 Laptop, heralds a new era in innovative technology from Gigabyte. The U21MD has a swivel hinge that allows it to be converted into a tablet or a laptop. It also comes with an innovative docking station (D21) thus allowing it to be transformed into a desktop! The Gigabyte U21MD packs a powerful 4th generation Intel Core i5 processor in its body, and has a 1366×768 display with multi-touch capability. The dual storage system of the SSD + HDD provides the user with massive storage and lightning quick performance which highlights the benefits of a dual storage system. This 3-in-1 Laptop can fit up to 512GB mSATA SSD and an additional 1.5TB of HDD.



To turn the U21MD into a desktop, simply slot the laptop into the docking station (D21) and connect peripheral devices, including a monitor, keyboard and mouse. Not only will it take up minimal space, it will also improve significantly the way you work. Always on the go? You won't need to plug and unplug I/O ports repeatedly anymore!
The D21 also provides excellent connectivity options such as HDMI, USB, and internet. Plug it in the D21, and enjoy your personal multimedia center.

Switching from tablet mode to a laptop is a snap. All you need to do is swivel and close. Excellent for users looking to carry one single device that delivers the best in performance, maximum hard drive space yet light enough to carry. The U21MD features a bright and responsive capacitive multi-touch display that can be rotated 180 degrees to convert into tablet mode. The stunning design is truly ultimate craftsmanship at its best. Whether using it for business or to browse the Internet, the U21MD from GIGABYTE delivers that perfect balance between a Tablet, a Laptop and a Desktop (available with docking station).

For those who seek ultimate multimedia experience, U21MD has the best audio and visual experience a 3-in-1 laptop could offer. The equipped Dolby Digital Plus Home Theater technology eliminates sound distortion, enhances volume and reinforces even the smallest details of the sound. Super thin and light at 0.78 in. /20mm and only weighing 3lbs/1.39Kg (m-SSD)/ or 3.28lbs/1.49kg (HDD), the U21MD is designed to provide the user with high mobility. The Gigabyte U21MD is the only laptop currently offering unmatched 3-in-1 flexibility for users looking for a versatile laptop.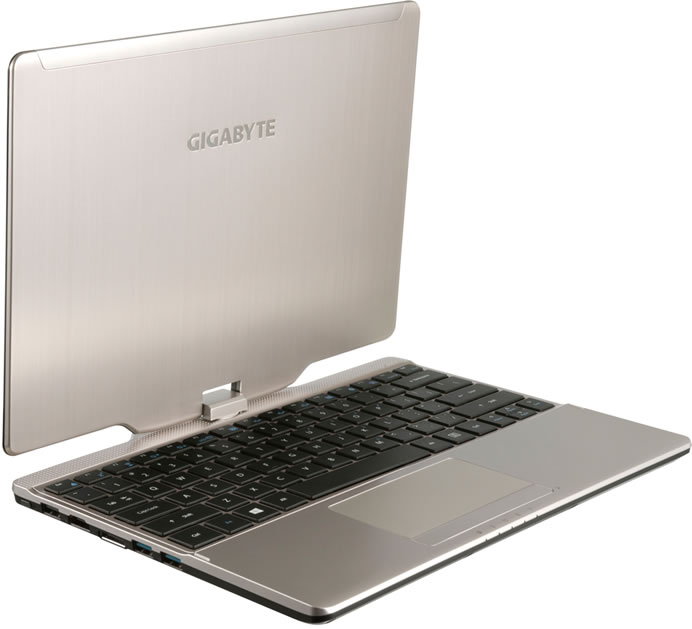 ---
---
---