Gigabyte unveils BRIX Gaming ultra-compact PC kit
Gigabyte today announced the launch of its latest addition to the Gigabyte BRIX series of ultra compact PC kits, the Gigabyte BRIX Gaming. The BRIX Gaming compact PC kit features a high-performance AMD A8-5557M APU plus a dedicated AMD Radeon R9 M275X graphics processor. Accompanied by 2GB of GDDR5 memory, the AMD Radeon R9 M275X is a discrete graphics processor that offers superb 3D gaming and GPU-accelerated application performance. The AMD R9 M275X supports the latest graphics acceleration technologies including Microsoft DX11.1, Shader Model 5.0, OpenGL 4.1.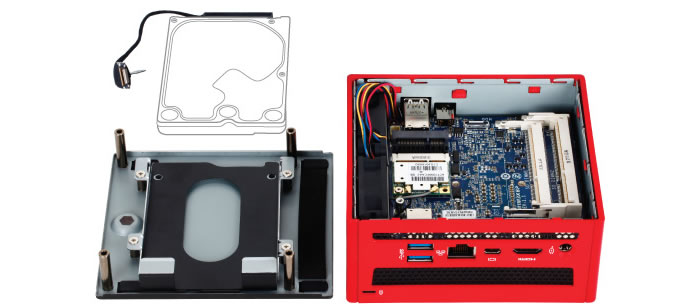 The AMD R9 M275X also supports the latest OpenCL 1.1 standard providing GPU-accelerated performance in general purpose applications. The BRIX Gaming includes support for both mSATA SSD and standard 2.5" SATA hard drive installation – ideal for storing the latest 3D gaming titles while enjoying a fast and responsive OS install on SSD.


The BRIX Gaming integrates four USB 3.0 ports (two front, two rear), ensuring ample connectivity for peripherals, storage devices and more. In addition to including a Gigabit Ethernet port, the Gigabyte BRIX Gaming also includes a Mini PCIe module offering IEEE 802.11 a/b/g/n/ac Wi-Fi and the latest Bluetooth 4.0, providing connectivity for low power Bluetooth devices and peripherals, as well as allowing users to easily connect their mobile devices.


Bundled with a VESA bracket, the BRIX Gaming can easily be mounted behind a monitor or HDTV making it discreetly hidden from view. The BRIX Gaming is sold as a DIY PC kit, shipping with a Wi-Fi Mini PCIe module pre-installed, requiring only SO-DIMM system memory and a choice of either, or both mSATA SSD or standard 2.5" hard drives. The BRIX Gaming compact PC kit is literally small enough to sit in the palm of your hand (measuring a mere 59.6mm x 128mm x 115.4mm).
---
---
---