LG to showcase Worlds first 21:9 UltraWide monitor with AMD FreeSync at CES 2015
LG will showcase its new 21:9 UltraWide monitor lineup, highlighted by the world's first UltraWide monitor compatible with AMD FreeSync technology to for fluid motion during fast gameplay at CES 2015. LG 34UM67 is the company's first 21:9 UltraWide Gaming Monitor specifically developed for graphics-intensive gaming. AMD's FreeSync technology eliminates the screen tearing that occurs when the monitor and graphics card are out of sync. The LG 34UM67 UltraWide Gaming Monitor has an exceptional UltraWide field of view (FOV), allowing gamers to gain the upper hand by revealing hidden spaces that were invisible on regular 16:9 monitors. The monitor's Black Stabilizer illuminates dark scenes and helps to clearly define the deep black areas where objects and enemies could be hidden.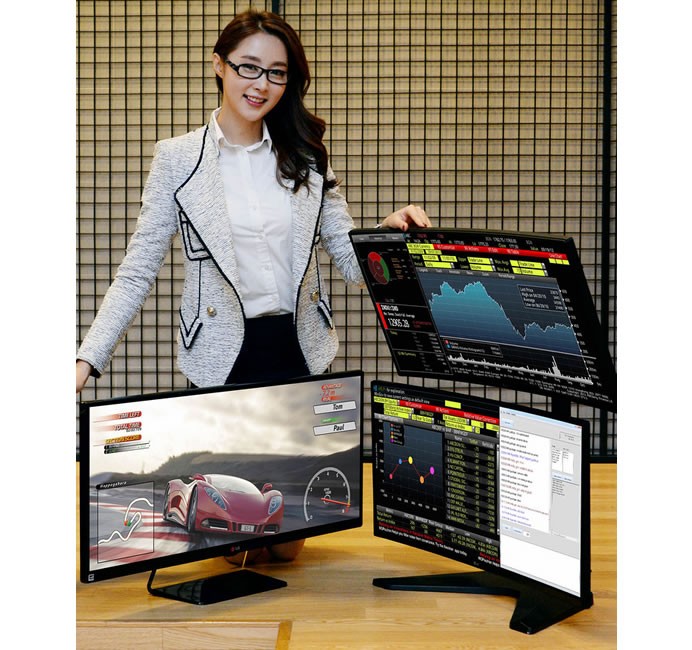 LG will also unveil world's first curved 34-inch 21:9 monitor with extensive screen at CES 2015. LG's curved 34-inch UltraWide monitor (Model 34UC97) in Quad HD resolution (3440 x 1440) makes maximum use of screen real estate. It allows creative professionals such as graphic designers or photographers to look at more images as thumbnails and media creators to see longer video image sequences or graphical representations of sound. Mac users will find the monitor particularly appealing as it is compatible with Thunderbolt 2, capable of high-speed bulk data transfers. The curved display further immerses users in their gaming experience. LG will also showcase the Digital Cinema 4K Monitor (Model 31MU97) featuring 4K resolution (4096 x 2160), with more pixels than normal Ultra HD resolution (3840 x 2160).
---
---
---