LG to unveil its 34-inch IPS 21:9 UltraWide monitor UM95 at CES 2014

LG will break new grounds at CES 2014 with the launch of its 34-inch IPS 21:9 UltraWide (Model UM95) monitor. Also available in a 29-inch version, the UM95 will offer stunning image clarity thanks to an UltraWide QHD resolution (3440 x 1440) display. In addition to the UM95, LG will be showcasing a number of other exciting IPS 21:9 UltraWide series monitors at CES in Las Vegas from January 7-10, 2014. Model UM65 (available in 25-, 29- and 34-inch display sizes) and model UB65 feature ergonomic designs ideal for the workplace environment. CES visitors will also be able to experience the Real 4K (Model 31MU95) and the latest Color Prime (Model 27MB85) monitors from LG.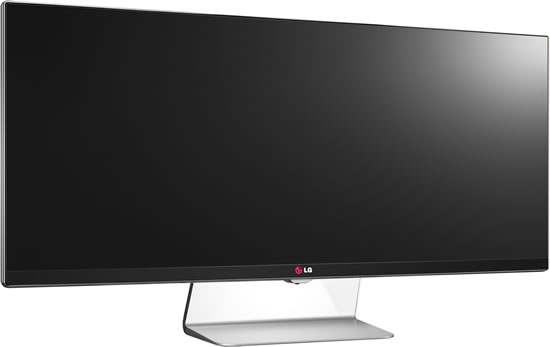 LG's newest monitors boast a long list of impressive features that make entertainment more immersive, multitasking easier than ever and work more productive. LG 34-inch IPS 21:9 UltraWide UM95 monitor supports a variety of advanced connectivity options, including Thunderbolt 2. The UM95 offers a superior screen that is sure to please gaming enthusiasts, film buffs and graphics professionals alike. In addition to Thunderbolt 2 support, the monitor also comes with True Color Finder calibration software to ensure optimal color expression.


Slightly leaner and more economical, the UM65 series delivers useful multitasking functions with the same great LG picture quality. With three different screen sizes, consumers can choose the right monitor for their particular needs. The stylish 34-inch version embraces the Crystal Float concept of its premium UM95 cousin. LG's 29-inch UB65 is geared towards workplace productivity with easy screen-height adjustment that allows the user to enjoy optimal viewing comfort and a display that pivots 90 degrees, a useful feature for editors and graphics designers. Well suited to the needs of the modern professional, LG's IPS 21:9 UltraWide monitors offer effective multitasking functions such as the 4-Screen Split and Dual Link-up. Gamers and movie enthusiasts will benefit from the wide aspect ratio as it delivers a more immersive viewing experience. The entire IPS 21:9 UltraWide series is Mac compatible and supports HDMI and DisplayPort, enabling users to mirror and transmit content from a wide range of devices.

---
---
---