Logitech Gaming Mouse G500 with Adjustable Sensitivity, Onboard Memory and Weight Tuning

The successor to the classic Logitech G5 Laser Mouse, the new Logitech Gaming Mouse G500 delivers game-changing precision at any hand speed. With its gaming-grade laser engine you can rev up your intensity – reaching a maximum hand speed of 165 inches per second (ips) and a maximum acceleration force of 30 gs. An on-the-fly adjustable-dpi gives you the right level of precision – from pixel-precise targeting (200 dpi) to lightning-fast maneuvers (up to 5700 dpi) – for whatever game you're playing. Full-speed USB helps ensure that the Logitech G500 mouse is smooth and responsive. A dual-mode scroll wheel – with hyper-fast scrolling provides click-to-click scrolling that's perfect for weapon selection. And ten programmable buttons put valuable macros in your hand .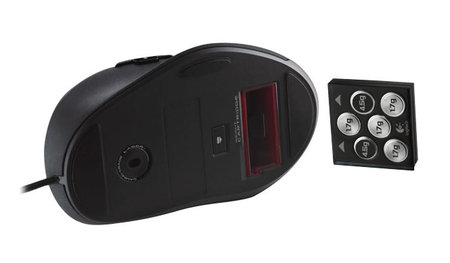 The G500 mouse offers weight tuning, including up to 27 grams of extra weight for personalized feel and control. The additional weights fit into a removable chassis and, when not in use, can be stored in the accompanying case.The Logitech G500 mouse with a rugged finish offers a battle-worn accent to your gear. A broader thumb rest and a smoothed-out pinkie ledge – makes the new Logitech gaming mouse G500 more comfortable when you're in the heat of competition. The Logitech Gaming Mouse G500 is expected to be available in September for a suggested retail price of $70.
---
---
---