Microsoft Announces Surface: New Family of PCs for Windows

Microsoft on Monday night unveiled Surface, a tablet computer to compete with Apple's iPad. One version of the Microsoft Surface device, which won't go on sale until sometime in the fall, is 1/3-inch (9.3 millimeter) thick and works on the Windows RT operating system. It comes with a kickstand to hold it upright and a touch keyboard cover that snaps on using magnets. The device weighs less than 1.5 pounds (680 grams) and will cost about as much as other tablet computers.



A slightly thicker version—still less than a half-inch (less than 14 millimeters) and under 2 pounds (910 grams)—will work on Microsoft's upcoming Windows 8 Pro operating system and cost as much as an Ultrabook, the company said. The pro version comes with a stylus that allows users to make handwritten notes on documents such as PDF files. The size of Surface tablet is similar to the latest iPad, which is a little more than 1/3 inch (9.4 millimeters) thick and weighs 1.3 pounds (590 grams). Surface price tag will be similar to the iPad, which sells for $499 to $829, depending on the model.


Each tablet comes with a keyboard cover that is just 0.12 inches (3 millimeters) thick. The kickstand for both tablets was just 0.03 inches (0.7 millimeters) thick, slimmer than a credit card.Microsoft's broadside against the iPad is a dramatic step to ensure that its Windows software plays a major role in the increasingly important mobile computing market. Microsoft is linking the Surface's debut with the release of its much-anticipated Windows 8 operating system, which has been designed with tablets in mind.

Additional Product Information:

Surface for Windows RT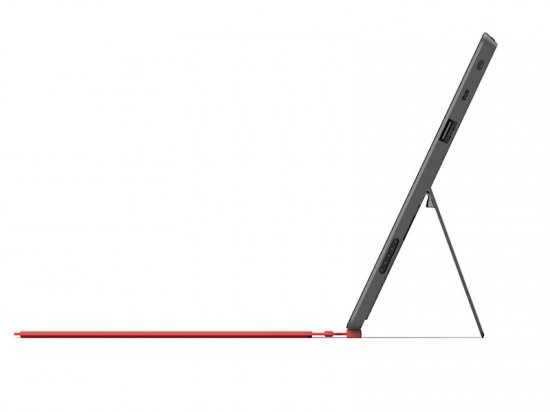 OS: Windows RT
Light(1): 676 g
Thin(2): 9.3 mm
Clear: 10.6" ClearType HD Display
Energized: 31.5 W-h
Connected: microSD, USB 2.0, Micro HD Video, 2×2 MIMO antennae
Productive: Office '15' Apps, Touch Cover, Type Cover
Practical: VaporMg Case & Stand
Configurable: 32 GB, 64 GB
Surface for Windows 8 Pro
OS: Windows 8 Pro
Light(1): 903 g
Thin(2): 13.5 mm
Clear: 10.6" ClearType Full HD Display
Energized: 42 W-h
Connected: microSDXC, USB 3.0, Mini DisplayPort Video, 2×2 MIMO antennae
Productive: Touch Cover, Type Cover, Pen with Palm Block
Practical: VaporMg Case & Stand
Configurable: 64 GB, 128 GB
---
---
---