MSI GT725 Brand New Gaming Beauty Notebook with 17″Display

The New MSI GT725GT725 Notebook provides with the enormous 17-inch LCD monitor for your viewing pleasure, achieve the ultimate realism experience whether you are playing games or watching a DVD. Equipped with the best and latest ATi Radeon HD4850 3D graphic card (Build-in DDR3 512 VRAM), exclusive MSI vivid image enhancement technology, MSI GT725 can create the most astonishingly realistic audio and visual effects. Recognized and approved by the highest standards of Dolby theater class 5 speakers, delivering a real-life listening enjoyment even further. The MSI GT725 features the latest Intel Centrino 2 Processor Technology, which uses IntelCore 2 Duo processor and Intel PM45 Express Chipset, to deliver innovative mobile solutions with unrivaled processor performance, stunning new HD capabilities, great wireless connectivity, and long battery life for full blu-ray movie playback.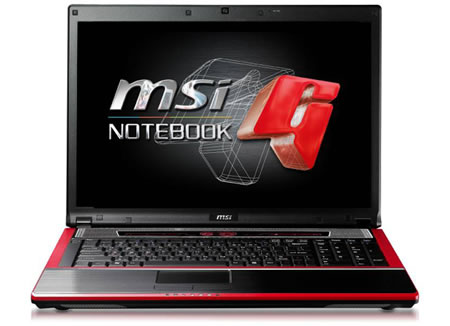 The GT725 selects the brand new ECO Engine, the outstanding and unique power saving function by MSI Notebook, as the power management function to extend the battery running time while performing different tasks. Touch the ECO quick launch touch sensor repeatedly to switch among the 5 different modes – Gaming mode, Movie mode, Presentation mode, Office mode, and Turbo Battery mode. MSI GT725GT725 Notebook with 120W power consumption, measures 395x278x26.5-35mm and weigh 3.2kg.
---
---
---