New Apple MacBook with powerful Intel Core 2 Duo processor

Apple released a new set of MacBooks that run the powerful Intel Core 2 Duo processor, meaning they can not only run Windows software, but they can run it faster and better than ever. With Intel Core 2 Duo processors across the entire line, these new MacBooks are up to 25 percent faster than their predecessors. Apple claims the new MacBook notebook computers out-perform their iBook predecessors by a factor of six, thanks to the Intel processors. The first of the three models released today is a white 1.83 GHz unit. The second, also white, has a 2.0 GHz processor, as does the third, which is black. All models are a nice 1-inch slim. Each of the new MacBooks has a host of features, including a built-in iSight video camera for video conferencing on the road, and iLife, a suite of applications for creating and viewing multimedia.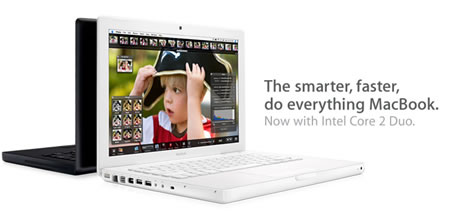 The iLife suite includes iPhoto, iMovie HD, iDVD, and GarageBand, which lets users record and perform music. Plus, the suite features a new program called iWeb, for building Web sites to share photos and other content.Each of the new MacBooks comes standard with AirPort Extreme, Bluetooth 2.0 + EDR (or Enhanced Data Rate, with far higher speeds than prior versions of Bluetooth), built-in Ethernet, two USB 2.0 ports, and a FireWire 400 port, topped off with a 13″ display and a hard drive that can handle up to 200 GB. The new MacBook models start at $1,099, and increase depending on options, like up to 2 GB of RAM.
---
---
---