NVIDIA announces Quad-Core Tegra 3 Chip with a fifth CPU companion designed for work requiring little power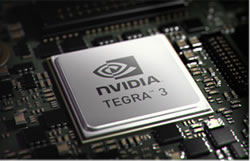 Nvidia today ushered in the era of quad-core mobile computing with the introduction of the NVIDIA Tegra processor, bringing PC-class performance levels, better battery life and improved mobile experiences to tablets and phones. Known previously by the codename Project Kal-El, the Tegra 3 processor provides up to 3x the graphics performance of Tegra 2, and up to 61 percent lower power consumption. This translates into an industry-leading 12 hours of battery life for HD video playback. The Tegra 3 processor implements a new, patent-pending technology known as Variable Symmetric Multiprocessing (vSMP). vSMP includes a fifth CPU companion, specifically designed for work requiring little power. The four main cores are specifically designed for work requiring high performance, and generally consume less power than dual-core processors.



During tasks that require less power consumption – like listening to music, playing back video or updating background data – the Tegra 3 processor completely shuts down its four performance-tuned cores and, instead, uses its companion core. For high-performance tasks – like web browsing, multitasking and gaming – the Tegra 3 processor disables the companion. The Tegra 3 quad-core CPUs are complemented with a new 12-core NVIDIA GeForce GPU, which delivers more realism with dynamic lighting, physical effects and high resolution environments, plus support for 3D stereo, giving developers the means to bring the next generation ofmobile games to life. The world's first quad-core tablet with the Tegra 3 processor is the ASUS Eee Pad Transformer Prime.
---
---
---