NVidia GPU's Render Stunning Visuals in $40 million Transformers Ride at Universal Studios Hollywood
Universal Studios took the wraps off its latest attraction on May 25 2012, a $40 million technological tour de force stuffed with more high-tech gadgetry than an electronics superstore. The new Transformers: The Ride at Universal Studios, Hollywood, is purpose-built to deliver a more immersive jolt than audiences have ever experienced. A fleet of custom-designed motion-platform vehicles takes 12 passengers at a time on a simulated ride through a Transformers battlescape, pausing before towering screens (14 screens), depicting attacking Transformers in photorealistic 3D. The 3D imagery boasts 4K x 4K resolution (34 total, projecting imagery) – four times greater than the typical movie. Every vehicle is outfitted with a 5,000 watt, 14 channel audio systems to heighten the experience.


Each vehicle is like a flight simulator, whose motion is synchronized to the on-screen action. The ride's impressive visuals were painstakingly rendered at Industrial Light and Magic (ILM) over the course of two years. The challenge: render all-new content using huge datasets in 4K resolutions, in 3D, at the correct perspective for each screen (some of which are compound curved). It turned out to be harder than the folks at ILM expected, but the team leveraged NVidia GPUs to make the high-resolution magic happen.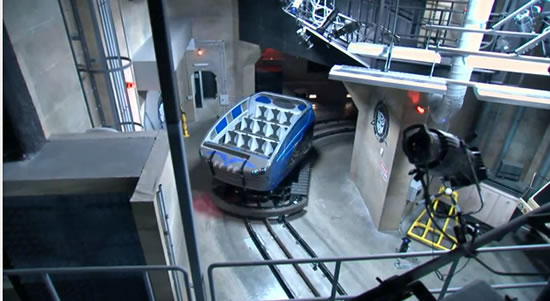 ---
---
---