Only 10.000 units of Razer Boomslang Collector's Edition 2007 available Worldwide !

Razer has announced that the Razer Boomslang Collector's Edition (CE) 2007 has begun shipping and is available for purchase from www.razerzone.com and other retailers. Only 10,000 units of the Boomslang CE 2007 will be available as a tribute to the legendary Boomslang, Razer's first gaming mouse launched in 1999. Each unit will also come with its own unique serial code, accompanied by an exclusive certificate of ownership.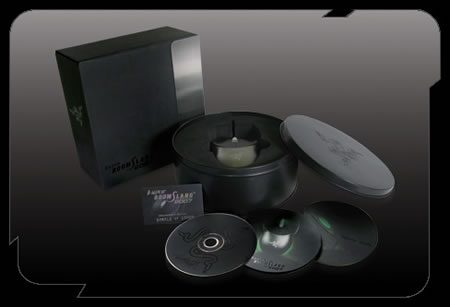 As with the original Boomslang circa 1999, the Razer Boomslang CE 2007 comes housed in a black metal tin with an embossed Razer logo. The Boomslang CE 2007 is tucked away snugly in the depths of the tin with protective suede foam. Accompanying this collector's gaming mouse is the driver disc, an introductory guide and a master guide.

The matte black box looks understated and subtle yet is anything but, with text in a gloss varnish, while the brush-finished stainless steel metal clip features a laser-etched signature Razer logo. Each Boomslang CE 2007 has its own numbered collector's card.
---
---
---