PQI launches Traveling Disk U263L with Easy Push-Out Design

The PQI Traveling Disk U263L features a slightly rounded exterior with flowing, smooth lines, giving it low-key style with unmistakable class. The outer casing is designed with two different materials—the top features sandblasted matte aluminum, while the bottom features mirror-polished plastic. The PQI U263L Traveling Disk is equipped with an LED that clearly indicates when information is transmitting. It also has a thoughtful hidden attachment hole for you to hang your favorite accessories, helping you create a personalized and unique traveling disk. The PQI U263L Traveling Disk's push-out, lidless design eliminates any worries of lost lids; use the drive with a simple, gentle push.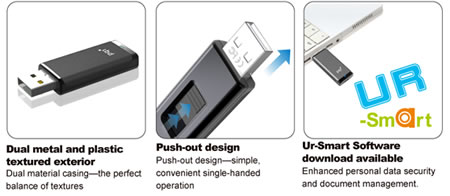 This disk comes in 4G/8G/16G/32G capacity options that can be loaded with PQI antivirus software, Dr. UFD, and Ur-Smart. The available software can immediately reset the disk to its default factory settings, help you troubleshoot problems efficiently, and enhance personal data security. The PQI Traveling Disk U263L comes in Blue,Pink and grey colors.
---
---
---