Samsung unveils world's highest resolution Windows 8 tablet -ATIV Q

Samsung today unveiled the new windows 8 tablet- ATIV Q with several innovative new features that sets it apart from other mobile tablets. Samsung ATIV Q new Windows 8 tablet is truly a convertible device with the ability to change modes and the power to enjoy both Windows and Android. As the ATIV Q is brand new it might be a good idea to look into buying tablets wholesale to try to get the best possible deal." Born of the tablet family, the ATIV Q allows users more flexibility than ever to adapt the device to fit any situation, posture, or environment. The Samsung ATIV Q has the world's highest resolution, QHD+ (3200×1800) display.



The tablet's 13.3-inch touch screen offers 2.8 times higher pixel density (275ppi) than full HD displays for viewing the finest of details. ATIV Q is also designed to provide an optimized viewing experience regardless of location and high brightness in outdoor environment.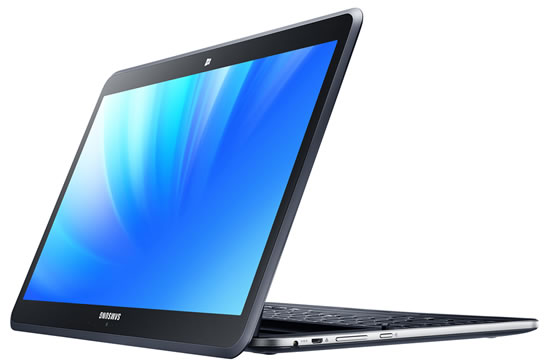 Addressing consumers' desire to access Android apps on a Windows-based PC, the ATIV Q allows users to experience both Windows 8 and Android (Jellybean 4.2.2) on the same device. Users will not only get access to Android apps via Google Play but also be able to transfer files, or share folders and files from Windows 8 to Android, truly marrying the mobile and PC experiences.


The ATIV Q sports an innovative hinge design that allows the user to transform the tablet into 4 functional modes. Lay the display flat over the keyboard for tablet mode. Raise the display upright to type just like a laptop. Float and adjust the display to a comfortable viewing angle or flip the display to place in the stand mode to watch movies with ease.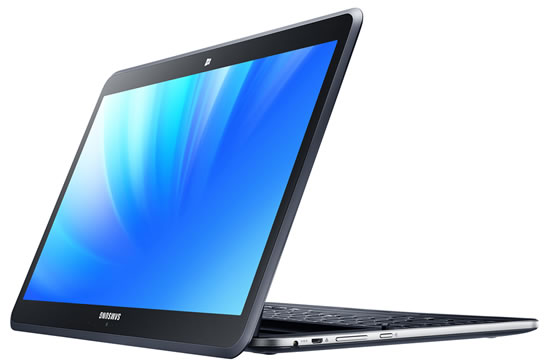 The four-in-one design of the ATIV Q easily adjusts to give users all the options they need in one device. ATIV Q is also extremely thin and lightweight for optimum portability. At 1.29kg and only 13.9mm, it's easy to take everywhere you go.SideSync enables users to switch from working on their PC to an Android-based Samsung smartphone with simplicity and ease. With SideSync, the user's PC and mobile device become one. Simply use the PC keyboard to respond to a text on a mobile phone; view maps on a larger screen, display photos, and videos on both devices to make editing files even easier; or use an ATIV PC to back up and charge mobile devices. With SideSync, users enjoy more productivity with fewer interruptions to work and everyday life.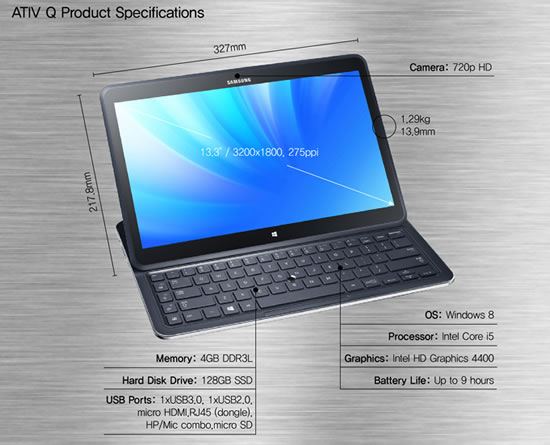 ---
---
---