SanDisk Expands Its Solid State Drive Line

SanDisk Corporation today broadened its solid state drive (SSD) product line for the portable computer market with the introduction of a 32GB, 2.5-inch Serial ATA (SATA) interface model, compatible with most mainstream notebook designs. The SanDisk 2.5-inch SSD brings the extreme durability, outstanding performance and low power consumption of solid-state flash memory to the entire notebook computer market.SanDisk SSDs have minimal power requirements, with savings rated at over 50 percent compared with a hard disk drive — 0.9 watts during active operation versus 1.9 watts. The vast majority of notebook computers manufactured today use 2.5-inch hard disk drives.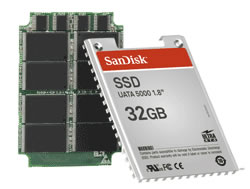 The SanDisk 2.5-inch SSD fits in the same internal slot as 2.5-inch hard disks, so notebook manufacturers can switch to the SanDisk SSD without altering their hardware designs.The 32GB, 2.5-inch SanDisk SSD is available now to computer manufacturers, with initial pricing of $350 for large volume orders. SanDisk SSDs will be demonstrated at the CeBIT show in Hannover, Germany, from March 15 to 21, 2007.
---
---
---