Seagate announces its first client solid state drive and its next-generation enterprise SSDs

Seagate today announced its new portfolio of flash-memory solutions. The company took the wraps off its first client solid state drive (SSD) and its next-generation enterprise SSDs. Featuring the Seagate 600 SSD, Seagate 600 Pro SSD, and the Seagate 1200 SSD, the new line of drives are engineered to deliver ultra-fast speed and high data integrity. Seagate also announced the new Seagate X8 Accelerator, a storage class memory PCIe card powered by Virident enabling the company to offer all key interfaces including SATA and SAS solutions.



The ultimate laptop upgrade, the Seagate 600 SSD delivers faster boot up speeds, shorter application load times, and improved system responsiveness for the ultimate performance. The Seagate 600 SSD is available in multiple z-heights including an industry-first, diminutive 5mm-high drive making it ideal for most ultra-thin devices as well as standard laptop systems. The drive features up to 480GB of capacity and comes in a 2.5 form factor. It also incorporates a 6Gb/s SATA interface for fast data transfer rates and easy connection.


The Seagate 600 Pro SSD is ideal for cloud system builders, hyperscale datacenters, cloud service providers, content delivery networks, and virtualized environments. The 600 Pro SSD features the industry's highest IOPS/watt to improve system performance while reducing power and cooling costs for transaction-hungry datacenters and cloud enterprise applications. Utilizing 2.8 watts typical operating power, the drive reduces energy by automatically adjusting the power consumption to workload I/O levels. The Seagate 600 Pro SSD is available with up to 480GB capacity and comes in 2.5-inch form factor.


Designed for demanding enterprise storage and server applications with complex, write-intensive mixed workloads, such as high-performance computing and data analytics, the Seagate 1200 SSD delivers the ultimate in speed, consistent performance and the highest levels of data integrity. It incorporates a dual port 12Gb/s SAS connector providing 100 percent faster interface speed, over previous generations, for twice the I/O bandwidth. The Seagate 1200 SSD is available with up to 800GB capacity and comes in either a 1.8-inch or 2.5 inch form factor.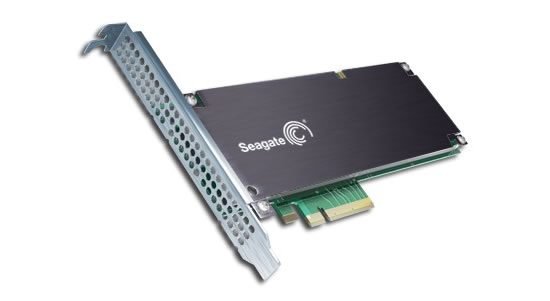 The Seagate X8 Accelerator, powered by Virident, is a PCIe card that dramatically accelerates application and server performance. Offering the industry's highest storage capacity in the smallest footprint, this PCIe card fits in any server and provides the highest capacity in a single low-profile card, enabling organizations to maximize the use of valuable server and data center space.
---
---
---