Sharp unveils worlds thinnest 32-inch 4K touchscreen LCD monitor in Japan

Sharp will introduce into the Japanese market a new 32-inch-class LCD monitor, the PN-K322B. This professional-use monitor features an originally developed high-sensitivity, high-precision touchscreen and delivers 4K resolution (3,840 × 2,160 pixels)—a level of resolution four times that of full HD. Thanks to IGZO technology and an edge-lit LED backlight, the PN-K322B boasts a slender profile with a thickness of just 36 mm—the thinnest in its class.



An included stand allows the monitor to slide easily between two angles depending on the application: vertical for viewing the monitor or low-angle for onscreen writing and touchscreen operation. The PN-K322B is Sharp's latest ultra-high-definition display. Its high-precision touchscreen allows accurate onscreen handwriting of fine text and lines, with writing performed via a dedicated touch pen with a pen-tip width of just 2 mm. The display also supports multi-touch operation.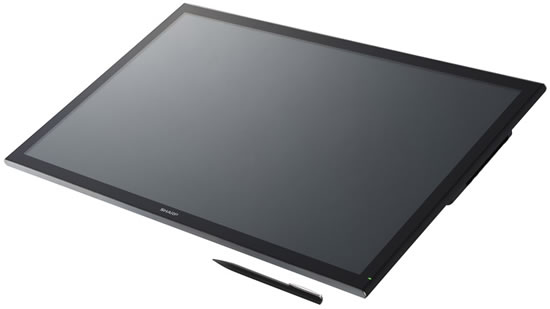 The Sharp PN-K322B features a palm cancellation function that prioritizes pen input even when the user's hand is resting on the touchscreen. Input connectors on the PN-K322B are compatible with the latest DisplayPort and HDMI interface specifications, enabling the monitor to display*3 4K ultra-HD content delivered from a PC via a single-cable connection. Sharp PN-K322B measures 750 × 390 × 493mm (without stand) and weighs 9.0 kg (without stand) / 16.0 kg (with stand). The display will be available in Japan from 20th July for approximately ¥560,000 ($5009).
---
---
---