Thermaltake Bigwater 760 Pro -Advanced 2U Drive Bay CPU Liquid cooling system announced

The Bigwater 760 Pro is a new breakthrough for CPU liquid cooling system emphasized on its superior performance and more advanced cooling technology from the pioneer brand for the liquid-cooling system –Thermaltake. Big Water 760 Pro, the new Dual drive bay design, not only saves space but also with room management in the case. All new designed aluminum fan radiator delivers better performance than the predecessors. Controllable low noise and high performance 12CM blue LED fan (fan speed between 1600 to 2400 RPM) with a front control VR knob to adjust fan speed conveniently; Ultra quiet P500 pump pushes 500L/H of water to improve the overall cooling efficiency and performance level; water reservoir contains large capacity of liquid, along with the clear liquid level indicator display provides much easier liquid level and limited refill line reading for users.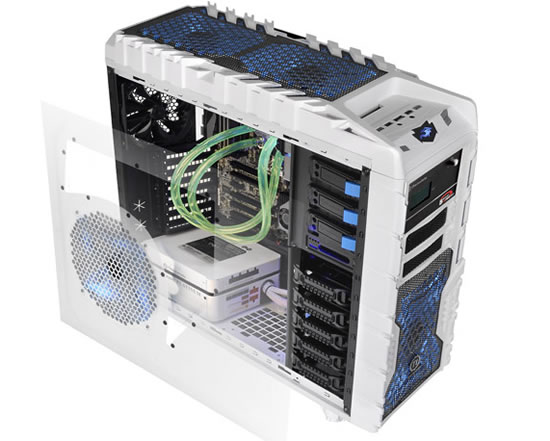 In addition, metallic mirror coating copper base water blocker makes better connection to CPU with stronger thermal performance and enhances heat transfer and liquid circulation efficiency.The UV sensitive water tube made by special material, can prevent wear and tear from being clogged up or over bending.Bigwater 760 Pro even allows users to extend cooling heat sources to maximize the entire cooling system, such as CPU, GPU and Memory.

---
---
---