Thermaltake CPU cooler X5 Orb FXII with real-time display of temperature

Thermaltake announced the latest generation of Orb Series CPU cooler-X5 Orb FXII today. Thermaltake X5 Orb FX II supports Intel (socket LGA775) and AMD (socket AM2/AM2+) mainstream platforms. Other than the exceptional cooling capability, X5 Orb FXII shows the current temperature of the fan in °C/°F in turns and the real-time fan rotation speed. The patented radiant design not only cools the CPU but also helps to cool the surrounding VRM as well. The special crotched fin design on X5 Orb FXII provides maximum heat dissipation with massive aluminum fins counting up to140.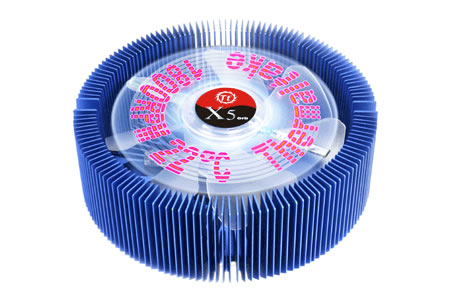 Thermaltake CPU cooler X5 Orb FXII is available in five eye catching colors. With a life time of 50,000 hours, the CPU cooler weighs 591g. Thermaltake X5 Orb FXII is more than just a high utility cooler, it is also an excellent decoration on your PC; it will not only satisfy you with its cooling excellence, but also with superb visual stimulation.
---
---
---