Thermaltake liquid cooling Bigwater 780 with 530c.c. big water tank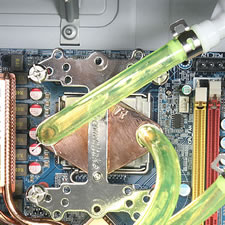 The new Thermaltake 3U drive bay liquid cooling Bigwater 780 is an all-in-one device that has every little detailed parts carefully designed. You can monitor the coolant circulations from the front panel of your chassis. Bigwater 780 has a 530c.c. big water tank that keeps you carefree of coolant fulfilling troubles for a very long time. The coolant controlling works is also very simple with the transparent design and easy fulfilling structure. Thermaltake Bigwater 780 comes with the P500 pump reaches maximum circulation capacity to 500L/hr. This allows the integrated cooling process of CPU, GPU, Memory, HDD and even chipsets, satisfying the future upgrading demands of liquid cooling players. The double racing car level radiators provide maximum cooling surface for the high end users.

Thermaltake Bigwater 780 satisfies the five core elements of cooling performance, space saving, easy installation and upgradability that you look for when selecting liquid cooling system at the same time. Thermaltake's new Bigwater 780 3U Drive Bay compact liquid cooling system is definitely going to be one iconic winner on the LCS market that you can not miss!
---
---
---