Toshiba announces worlds first Self-Encrypting Drives equipped with Wipe Technology

Toshiba today announced the launch of the world's first[ series of Self-Encrypting Drives (SED) equipped with Wipe Technology, Toshiba's proprietary suite of security functions that bring an unsurpassed level of data protection to IT equipment. Wipe Technology allows users to determine a range of security settings, including invalidation of encryption keys and data invalidation when a drive is removed from its housing or connected to an unauthorized host system. Reflecting voice of customers to meet varying using conditions, Toshiba MK6461GSYG family drives not only offer the latest version of Wipe Technology adding the third level of control, but also configure areas for invalidation and encryption, achieving an optimized solution for data security.Wipe Technology HDD can be incorporated into existing system architectures and integrated into various IT equipments where users demand a high level of data security, including multifunction printers, POS systems and PCs.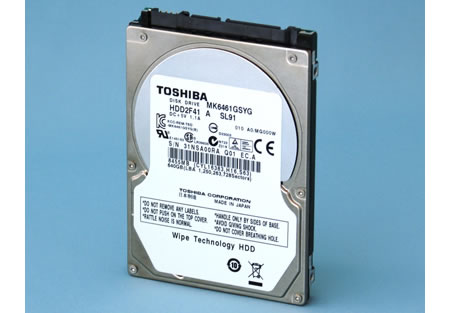 When an SED HDD is inserted into a system it triggers challenge response authentication to confirm the system is known to the HDD. If the authentication fails, the HDD automatically deletes the encryption key. This level counteracts attempts to read a drive by physically removing it from a secure host system and installing it in another system. Toshiba will adopt Wipe Technology SED HDD into enterprise use such as its own brand PCs, multifunction printers, and POS system.The five models in the 2.5-type MK6461GSYG family range from 160 gigabytes (GB) to 640GB and are designed for use in copiers, printers, POS systems, PCs and other IT devices. Sampling will start from the end of April with mass production following at the end of June.
---
---
---