Transcend Announces New 2.5" Drive SSD250N Tailor-Made for NAS Systems
Transcend today announced the launch of the SSD250N for NAS. Transcend SSD250N is a 2.5" solid-state drive (SSD) tailor-made for Network Attached Storage (NAS) systems to support rising demand for remote offices, remote education, and remote recreation brought on by COVID-19. Transcend's SSD250N is ready for use with NAS systems on 24/7 as it offers up to 2,000 TBW. Its 3D NAND flash and the SATA III interface unleash random speeds of up to 82K IOPS, optimizing data transfer.
The built-in DRAM cache and 3D NAND flash deliver high IOPS, reducing latency and speeding up NAS systems. Packed with multiple advanced technologies, the SSD250N provides outstanding reliability and extends NAS lifespan, fully assisting small and medium-sized business operations, multimedia streaming at home, and speeding up multi-user access to shared data.
The built-in DRAM cache boosts read and write speeds, offering stable performance for seamless backups, instant central management and real-time file synchronization. Whether your NAS is serving up your favorite shows on your home media center while archiving music, photos, and videos, or is used in 4K or 8K video editing, or even at a business constantly trading data with clients, the SSD250N is ready to do the heavy lifting.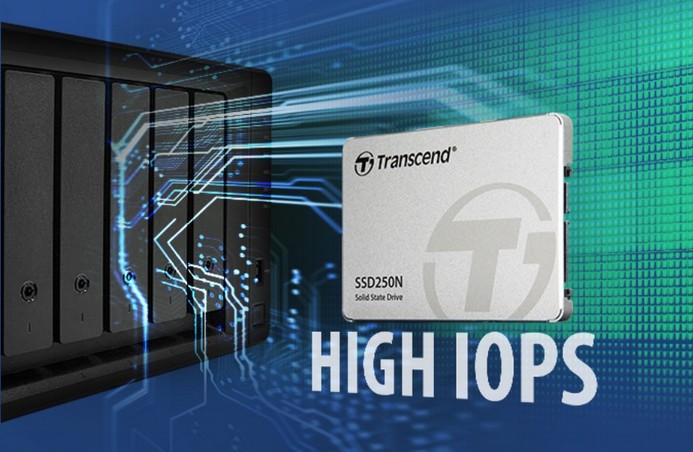 The RAID engine and LDPC coding detect and fix transfer errors to prevent data corruption; garbage collection relocates data to release memory blocks and prolong device lifespan; and DevSleep saves energy by shutting down the SATA interface when not in use and powering up quickly when prompted. These smart technologies enable the SSD250N to accommodate new lifestyle and remote business models.
The proprietary free download SSD Scope software, is a tailor-made kit that measures SSD's health. Tools include View Drive Information, View S.M.A.R.T. Status, Diagnostic Scan, Secure Erase, Firmware Update, TRIM Enable, Health Indicator, and System Clone. Transcend's SSD250N comes in 1TB and 2TB capacities and is covered by a five-year limited warranty. Transcend SSD250N measures 100 mm x 69.85 mm x 6.8 mm (3.94″ x 2.75″ x 0.28″) and weighs 57 g (2.01 oz)0nly.
---
---
---