VIA launches VIA AMOS-5001 Chassis Kit for Slim Em-ITX Embedded Systems

VIA today announced the VIA AMOS-5001, a specially designed chassis kit for Em-ITX form factor boards enabling the rapid and easy assembly of a wide variety of robust fanless embedded system designs. The VIA AMOS-5001 chassis kit features a unique modular design comprised of only four mechanical parts that ensures the easy integration of VIA EITX-3001 series mainboards. The VIA AMOS-5001 chassis combines with the unique integrated heatsink design found on Em-ITX boards. The discrete aluminum heatsink has direct contact with the processor and chipset on reverse side of the board, forming a solid, robust base for chassis assembly. An optional storage compartment can also be added. An optional 2.5" HDD storage subsystem chassis is also available.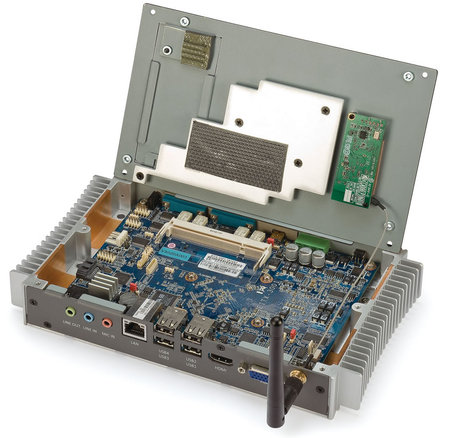 Measuring just 35.2mm high and 231mm wide, the ultra-compact VIA AMOS-5001 is slim enough to fit in even the most space-constrained environment. Systems built using the VIA AMOS-5001 are also shock resistant and can withstand even the most extreme temperatures. The VIA AMOS-5001 is available now and is targeted at a wide variety of embedded segments including medical, POI/POS, digital signage, kiosk, industrial and building automation, and gaming and surveillance applications.
---
---
---