Canon announces its First External Strobe Speedlite EL-1 with Lithium-ion Battery
Canon today announced its first external strobe with lithium-ion battery – Speedlite EL-1. This new generation professional speedlight provides higher performance and reliability unlike ever before, in comparison to previous models, with a new rechargeable Li-ion battery and newly designed user-friendly interface.
The Canon Speedlite EL-1 works seamlessly with EOS cameras and is ideal for any photographer who works in portrait, still-life, wedding or in-studio photography. It's also a resourceful tool for those photographers who work for news agencies, red carpet events or entertainment reporters. Its durability and reliability are at the core of the newest features. A high-durability Xenon glass flash tube provides higher accuracy and durability for the flash head.

The Canon Speedlite EL-1 uses the same dust-proof and drip-proof structure used in EOS-1D X Mark III. Sealing is applied to the mating surfaces of the exterior parts to maintain air tightness. In addition, a rubber dustproof / drip-proof adapter is attached to the lock part. High dustproof and drip-proof performance is achieved by sticking to the stage on the camera side when the shoe is locked.
The Speedlite EL-1 has an increased continuous firing number of approximately 170 thanks to a new active cooling system and also features wireless second-curtain sync.A powerful rechargeable Li-ion Battery Pack providing high speed recycle and increase in number of flashes while utilizing the Canon LC-E6 battery charger. New joystick, FE one-touch memory, LED modeling lamp and user interface display design are some prominent features.
The Canon Speedlite EL-1 provides an expanded power range for versatility of exposure with  micro flash  minimum flash output as low as 1/8192 power, a zoom flash head that covers a wide focal length range of 24-200mm, bounce angle expanded to 120° and the same level of weather-sealing comparable with the EOS-1D camera series. Also included are two color filters and a bounce adapter for additional lighting control making the EL-1 a strong addition to the evolving catalog of Canon Speedlite flashes.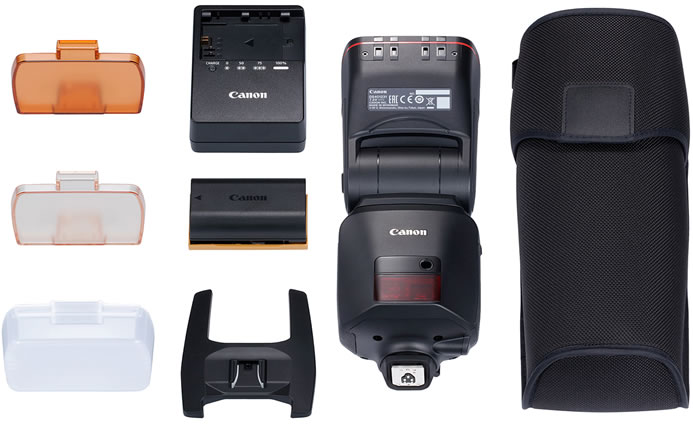 Canon Speedlite EL-1 measures approximately 84.4 (width) x 149.0 (height) x 136.4 (depth) mm and weigh 572g (strobe body only). The Speedlite EL-1 is scheduled to be available for in-store purchase in February 2021 at an estimated retail price of $1,099.00.
---
---
---