Canon Announces New Cine-Servo 25-250mm T2.95-3.95 Cinema Lens For 4K Cameras
Canon U.S.A, today announced the CINE-SERVO 25-250mm T2.95-3.95 (CN10x25 IAS S), a new CINE-SERVO cinema lens designed for use with 4K cameras. The new lens, which is available in both EF and PL mount, features 10x optical zoom, a built-in 1.5x extender and a powerful and removable servo motor drive unit, providing broadcast-friendly shoulder operation for ENG/EFP and documentary style shooters.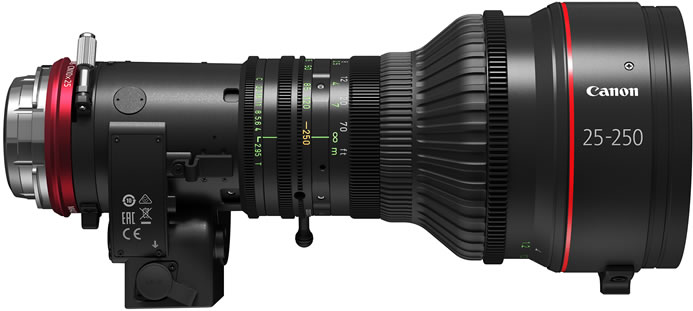 The lightweight design of new Canon Cine-Servo 25-250mm T2.95-3.95 cinema lens (6.7 lbs.) is remarkable given the zoom range and feature set, especially when compared with other lenses of similar focal lengths. The servo drive unit included with the 25-250mm lens can be easily removed to allow for manual operation, and the gear pitch is compatible with standard cinema controls of zoom and focus.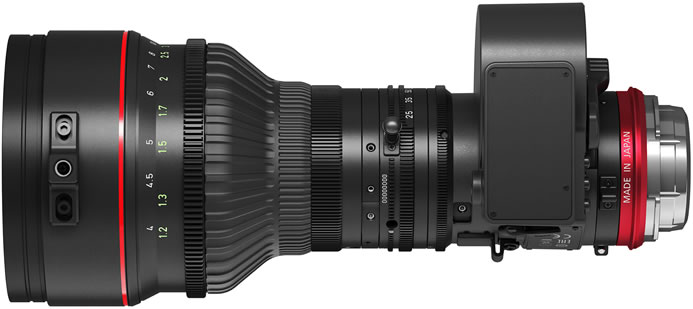 The CINE-SERVO 25-250mm offers outstanding 4K optical performance thanks to its ultra-low dispersion glass and a large-diameter aspherical lens. Combined with Canon's unique optical design technology, these components work to help correct color fringing and limit chromatic aberration during operation. The lens features Canon's renowned warm color science and an 11-blade aperture that produces a beautiful, smooth bokeh.
The EF mount version of the lens allows for the utilization of Canon's proprietary Dual Pixel CMOS AF, which provides users with smooth AF operation and high-speed tracking performance, and the PL mount version supports Cooke/i Technology. In addition, like the 17-120mm, the 25-250mm lens also features a macro function to enable close-up shooting. The new lens is ideal for cameras with a Super 35mm sensor. While the 10x zoom covers a focal range of 25-250mm, the built-in extender stretches that range to an impressive 375mm with an added benefit of allowing for full-frame sensor coverage with only a stop of difference in light loss.The Canon CINE-SERVO 25-250mm T2.95-3.95 (CN10x25 IAS S) is scheduled to be available later in 2020 for an estimated retail price of $29,999.00.
---
---
---