Canon celebrates production of 250 million digital cameras
Canon today celebrated a camera-manufacturing milestone as combined production of the Company's compact digital and interchangeable-lens digital cameras surpassed 250 million units on January 31, 2014. Canon has continuously produced cameras since its founding in 1937, began producing and marketing digital cameras in the mid 1990s. In 1995, when film cameras were still the norm, Canon launched its first digital camera, the professional-model EOS DCS 3 digital SLR camera.


In 1996, Canon announced its market entry with the introduction of the PowerShot 600, the Company's first compact digital camera. In 2000, amid the market's rapid growth, Canon launched the IXY DIGITAL (PowerShot S100 or DIGITAL IXUS in markets outside of Japan), featuring a ground-breaking compact, stylish body design that set the trend for compact digital cameras.
Canon's cumulative production of compact digital cameras surpassed the 100-million-unit mark in 2008, and broke through the 200-million-unit threshold in December 2013. Aiming to further extend its production volume, in 2014 Canon launched a new lineup of compact digital cameras that let users enjoy high value-added photography, including the PowerShot G1 X Mark II, designed to deliver the highest levels of imaging performance, and the new-concept-model PowerShot N100.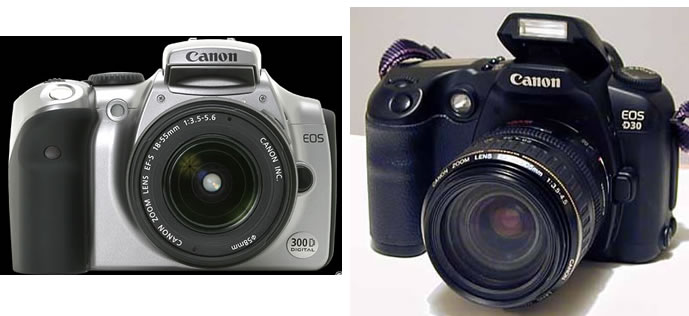 In 2000, Canon launched the EOS D30, developed as a next-generation standard digital SLR camera to satisfy the needs of a wide user base, from advanced photo enthusiasts to professional users. In 2003, Canon again led the market with the introduction of the entry-level-model EOS Kiss Digital (EOS Digital Rebel or EOS 300D), which set the stage for dramatic expansion of the market.


In 2005, production of Canon interchangeable-lens digital cameras reached 25 million units and, in February 2014, surpassed 50 million units. Among the new products worthy of note that contributed to the realization of this milestone were the EOS 70D, featuring innovative Dual Pixel CMOS AF autofocus technology, and the entry-level EOS Kiss X7 (EOS Rebel SL1 or EOS 100D), which combines a ground-breaking compact, lightweight body design with advanced basic performance.
---
---
---