Canon CR-2 PLUS AF Digital Retinal Camera offers automation and operability in a comfortable and Easy-to-Use design

With an emphasis on practice efficiency, operator ease-of-use and enhanced patient experience, Canon U.S.A. today introduced the CR-2 PLUS AF Digital Retinal Camera, a new non-mydriatic retinal camera. The CR-2 PLUS AF retinal camera offers a variety of new automated functions that enable eye care and other healthcare facilities to streamline patient appointments, while still providing quality patient care and comfort. With the press of a button, users can switch between auto and manual focusing, for ultimate control and ease-of-use. The new Autocapture function determines the appropriate moment to capture an image by analyzing when exposure and alignment are ideal.



With upgraded features and enhancements made to alignment operability, as compared with the CR-2 PLUS Digital Retinal Camera, the new CR-2 PLUS AF retinal camera decreases exam time while reducing the possibility of an invalid image capture. The new real-time indicator instantly identifies the alignment status with an easy-to-read icon. Practitioners can now preview images on the dedicated EOS camera observation monitor immediately, so images can be quickly retaken, minimizing any delay in the exam. The new to the CR-2 PLUS AF retinal camera with HDMI-ready interface allows practitioners to preview images without needing to sync and to change the aspect ratio so that content can be projected on varying monitor sizes.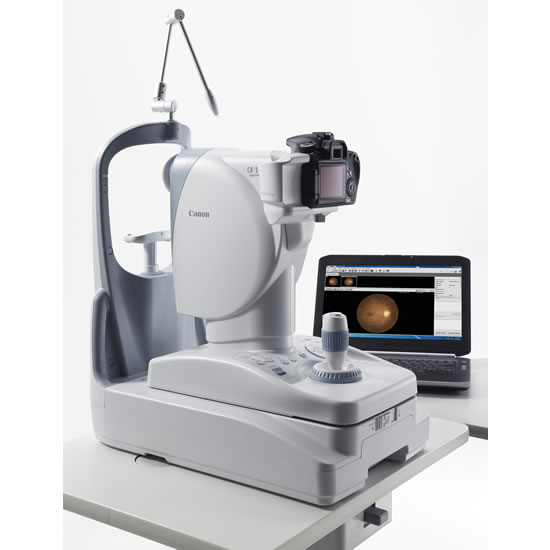 The CR-2 PLUS AF retinal camera offers the legendary Canon image quality, featuring a dedicated EOS camera and built-in 18 megapixel sensor. The three-inch Clear View LCD screen and 45-degree angle of view improves ease-of-use. Stereo capture has also been improved from the previous model, and can be accessed directly from the EOS camera or through the dedicated Canon Image Management Software. Fixation shift patterns are also now preset for stereo capture for an enhanced and streamlined workflow. The CR-2 PLUS AF retinal camera is now available through authorized Canon dealers.
---
---
---