Canon EOS C300 Digital Cinema Cameras used for the entire shooting of movie- Departure Date

Canon announced today that Departure Date, the first motion picture to be filmed entirely onboard airliners in flight, was shot using Canon EOS C300 digital cinema cameras. The film was shot in nine days on three commercial flights at an altitude of 35,000 feet, spanning across 28,000 miles and three continents. Written and directed by Kat Coiro, Departure Date is a film about Jake (Emmy-nominated actor, Ben Feldman), who finds and loses the love of his life (Nicky Whelan) on a Sydney to Los Angeles Virgin Australia flight, meets his depressing future (in characters played by Philip Baker Hall, Janeane Garofalo, and Luis Guzman) on a Virgin America Los Angeles to Dallas flight, and is motivated to go get the girl on a Virgin Atlantic Los Angeles to London flight.



Compact, lightweight, and designed to deliver exceptional full 1920 x 1080 HD images, the Canon EOS C300 digital cinema camera is the product of decades of Canon's expertise designing advanced image sensors, lenses, and digital imaging processors. Engineered for filmmakers at all levels, the Canon EOS C300 features a unique Super 35mm Canon CMOS sensor, revolutionary Canon DIGIC DV III image processor, for superb cinematic image quality, and a 50 Mbps 4:2:2 MPEG-2 codec for faithful image capture. It records to two CF (Compact Flash) cards through dual slots, with a choice of serial or parallel (for backup) recording, providing up to 80 minutes of recording time on each 32GB card.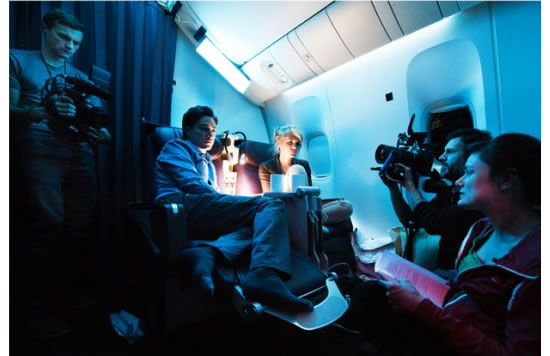 ---
---
---