Casio announces new Compact Exilim EX-JE10 Camera with Cute Design for women
Casio today announced the release of the new Exilim EX-JE10 compact digital camera which features a cute design expected to appeal to women. The Casio EX-JE10 departs from conventional digital cameras with its sleek compact body and attractively curved lines. Each camera includes a matching Camera Jacket with shoulder strap for slinging the camera over the shoulder or hanging it around the neck. The jacket is designed to enable users to snap photos at a moment's notice without even removing the camera.



The EX-JE10 is equipped with a powerful 16.1 megapixel CCD and a 26mm wide-angle lens with a 5x optical zoom. It comes packed with advanced features including Casio's Premium AUTO function, which automatically analyzes the shooting scene to choose the best settings and performs image processing. Other features include Make-up Function for making people's faces look their beautiful best, and ART SHOT, which offers eight different effects for creating artistic photos, such as fisheye and toy camera effects.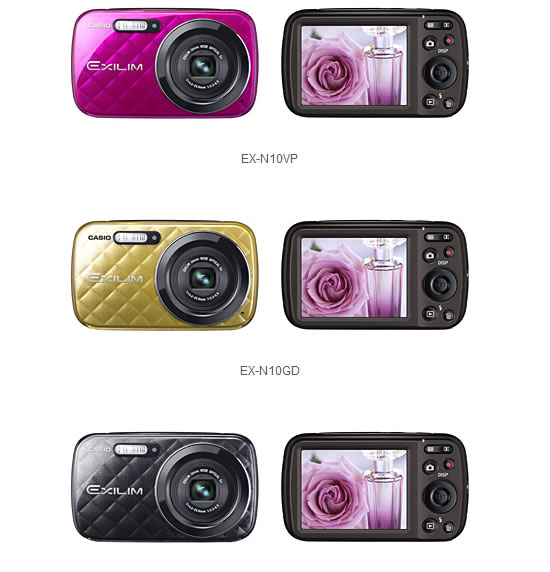 The Casio EX-JE10 includes thoughtful and appealing touches for female users such as a joystick control that can be easily operated even with long nails and selectable menu colors that are coordinated with the body color. The EX-JE10 is available in three colors—white, pink, and black—to match the user's style. Each color variation comes with a matching, color-coordinated Camera Jacket with shoulder strap.
---
---
---