Fujifilm launches FUJIFILM X-A1: Compact and entry-level interchangeable-lens camera

Fujifilm today, announcing the launch of its fourth interchangeable lens camera, the FUJIFILM X-A1. The ultra-light X-A1 gives consumers an affordable entry point into the X-Series line of digital cameras and delivers outstanding image quality using its large 16.3 Megapixel APS-C CMOS sensor, easy operation and wireless image transfer for quick photo sharing. The FUJIFILM X-A1 kit will ship with the FUJINON XC16-50mm (24-76mm) F3.5-5.6 OIS zoom lens. The lens consists of 12 all glass elements in 10 groups including 3 aspherical elements and 1 ED element. The lens features seven round-edged aperture blades, which offer 17 stops in 1/3 EV increments for precise aperture control.



The FUJIFILM X-A1's large 16.3 megapixel APS-C CMOS sensor captures rich tonal expression, increased dynamic range and sensitivity settings up to a maximum ISO of 25600. It also offers the ability to produce a beautiful bokeh effect – the aesthetic out-of-focus effect created when shooting with a shallow depth of field. The EXR Processor II offers quick responses with its start-up time of 0.5 seconds, shutter time lag of 0.05 seconds and a maximum burst speed of 5.6 frames per second (max. 30 frames), you will not be disappointed.

The 3-inch high-definition LCD screen tilts up and down facilitating worm's eye view shots of flowers and pets, as well as allowing you to capture in-the-air shots over a crowd of people. With eight Advanced Filters, users can add special effects pre-image capture: namely Toy Camera, Miniature, Pop Color, High Key, Low Key, Dynamic Tone, Soft Focus and Partial Color (Red/Orange/Yellow/Greem/Blue/Purple). The Multiple Exposure mode allows to superimpose a second exposure onto the first exposure for a truly creative touch.

The camera is equipped with two Command Dials, allowing users to adjust the aperture, shutter speed and exposure compensation quickly with their thumb. Individual buttons are also provided to access frequently-used functions such as White Balance, Burst Mode and Macro, so that you don't have to go to the menu screen for each change of setting, enabling an intuitive and quick operation.


The wireless image transfer function allows users to transfer photos immediately to a smartphone or tablet PC. It broadens the enjoyment of photography through the easy uploading of your favorite images to social networking sites or just enabling you to share them with your friends.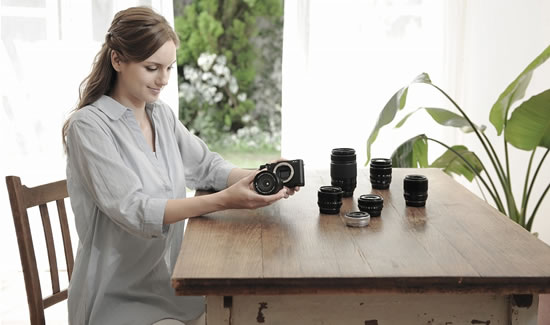 The FUJIFILM X-A1 records Full HD video (1920×1080) at 30 frames per second. Additional creative effects can be used when shooting videos including Film Simulation options (eg: Monochrome), and beautiful "bokeh" can be achieved by the large APS-C CMOS sensor using a low value of aperture setting. And, the movie button enables you to instant switch to movie recording even while shooting still images.


At just 330 grams, the FUJIFILM X-A1 is lightweight compared to many interchangeable lens system cameras. Yet at the same time it incorporates a large APS-C CMOS sensor, a tiltable high-definition LCD monitor, a built-in flash, Wi-Fi image transfer and a hot shoe. Compatible with all FUJIFILM X Mount lenses, the FUJIFILM X-A1 is particularly suited to the two FUJINON XC lenses that have been recently announced. Compact and lightweight, the XC lenses have been designed to be paired with our entry and mid-range compact system cameras and cover a wide range of focal lengths.
Sample image:

---
---
---