Fujifilm new X-A3 mirrorless camera can shoot even without having to press the command dial or release button for great selfies
Fujifilm today announced the new FUJIFILM X-A3, a compact mirrorless camera with a large, 180 degree tilting touch LCD, eleven film simulations and ten advanced filters, all in a retro, classic design. The Fujifilm X-A3 retro design gives a "fresh" and "fashionable" impression. The top cover, front plate and top dials are made of aluminum. The newly-developed faux leather has significantly enhanced the overall texture. The camera is available in brown, silver or pink.


The Fujifilm X-A3 grip is designed to accommodate normal shooting and self-portraits effortlessly.The X-A3 features a newly-developed 24.2MP APS-C sensor that produces crisp images in a wide range of shooting conditions, and excels in naturally reproducing skin tones, textures and colors. The LCD on the rear touchscreen offers "Touch AF," "Touch Shoot" and "Touch Zoom," for easy pinch-out finger gestures to zoom in and out. The rear LCD employs a slide-and-tilt mechanism so that it is not blocked by the camera body when tilted 180 degrees to maintain 100% visibility. Users will be able to view the entire screen for precise selfie composition.

When taking a selfie, users can focus and release the shutter by pressing the vertical command dial, found directly below your index finger that also minimizes camera shake. The new Self Timer function now offers Smile Detection, Buddy Timer and Group Timer modes. Even without having to press the command dial or release button, the shutter is released when subjects smile, when two people come close together, or when a specified number of people come into the frame. The X-A3 also automatically activates Eye Detection AF when the rear LCD is tilted upwards, and the Portrait Enhancer mode now offers three-step adjustments, using touchscreen operations. The addition of the skin-tone brightening function takes your portrait photography to a new level.

The X-A3 offers a total of eleven Film Simulation modes. Enjoy Fujifilm's original expressions of tonality, such as the true-to-life colors of PROVIA (standard), the vibrant tones and saturated colors of Velvia (vivid), the soft tones of ASTIA (soft) or the documentary-style tones of CLASSIC CHROME. Monochrome and Sepia modes are also available.

With the new dedicated Fujifilm Camera Remote application, users can focus and trigger the camera release from their smartphone or tablet. The app not only lets to adjust focus, but also control settings like shutter speed, aperture, exposure compensation and ISO sensitivity. User can even apply other settings like Film Simulation, self-timer, and flash while "Touch AF" lets to focus from phone or tablet, too. The new Fujifilm X-A3 Kit (with XC16-50mmF3.5-5.6 OIS II) will be available in October 2016 in the U.S. for USD $599.95. It will be available in Silver, Brown, and Pink.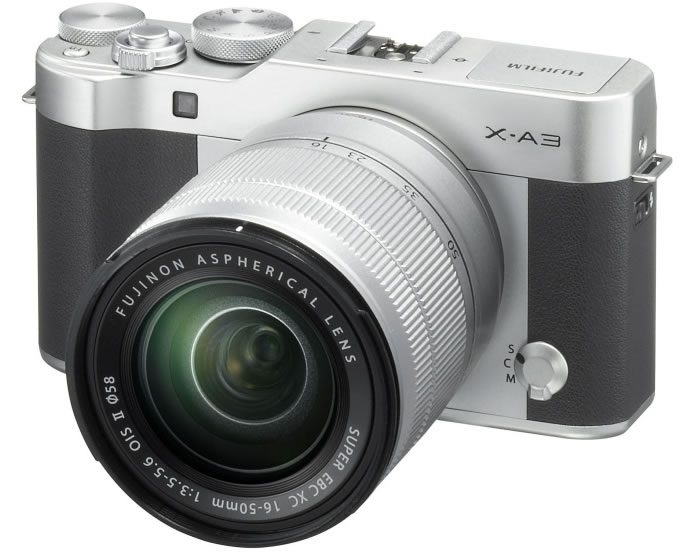 ---
---
---