Hitachi HDC-507 digital camera

The entry level Hitachi point and shoot HDC-507 is a 5 megapixel digital camera with a fixed focal length lens, 2.4″ TFT LCD monitor, 4x optical zoom and SD-Picture Card storage. With a 5 million pixel effective resolution and movie recording capabilities, the Hitachi HDC-507 offers great functionality yet remains easy to use. Pleasant to hold and operate, with its rounded, compact shape, the HDC-507 offers straightforward controls and menu options, ensuring this camera makes life easy for the intrepid photographer looking to make the leap to digital photography. The Hitachi HDC-507 is small enough to slip into a jacket pocket or handbag, so it's never far away from the action. With high quality 2.4″ TFT LCD screen, users can easily take and review shots before adding them to their collection. Furthermore, a sliding cover protects the lens from being scratched by those stray objects that lurk in pockets and bags.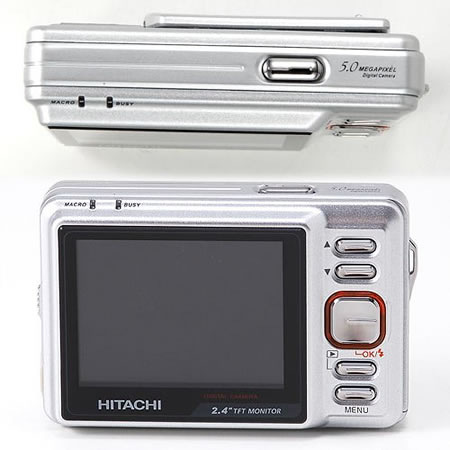 Hitachi HDC-507 is a camera designed to automate the complex areas of digital photography, whilst still producing high picture quality. Created with ease of use and convenience in mind, the HDC-507is powered by two AA Alkaline batteries and is available for approximately 10,000 Yen ($82).
---
---
---