JVC GY-HM650 ProHD camera saves WWSB thousands in satellite truck costs with one assignment

Nik Wallenda gained national attention last month when he completed a 1,400-foot-long tightrope walk across the Little Colorado River Gorge near the Grand Canyon in Arizona. The event was shown live on the Discovery Channel on June 23, but WWSB, an ABC affiliate based in Sarasota (DMA #14), used the built-in streaming capabilities of the JVC GY-HM650 ProHD mobile news camera to provide live coverage of press conferences and other events from Arizona for Wallenda's hometown fans. With only a two-person team, anchor Lauren Dorsett and creative service producer Charlie Yeagley, who handled shooting duties, the station provided live coverage of Wallenda's arrival and press conferences, as well as stand-ups from the event.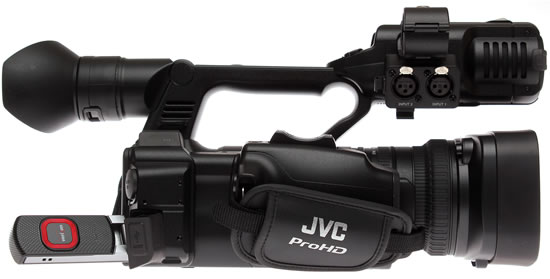 It was very easy for Yeagley to move from one live shot to the next – with the 4G hotspot in his pocket, he grabbed his camera and tripod, walked to the next location, turned on the JVC GY-HM650 ProHD camera and hotspot, and he was live. The GY-HM650 also streamlined the workflow. Between locations, while Dorsett was driving, Yeagley would use the camera's built-in clip trimmer to edit specific clips, which he would then upload via FTP to a shared site for the company. As a result, the individual files could be edited at WWSB or other Calkins Media stations and newspapers.
---
---
---