Kodak Wins Three Prestigious 2008 CES Innovations Awards

Kodak innovation was highlighted at the recent International Consumer Electronics Show Press Preview, where the company's products and services won three prestigious Innovations 2008 Design and Engineering Awards. The Kodak EasyShare 5300 All-in-One Printer was awarded an Innovation honor in the Computer Peripherals category, while the Kodak EasyShare V1253 garnered Innovations honors in the Digital Imaging category.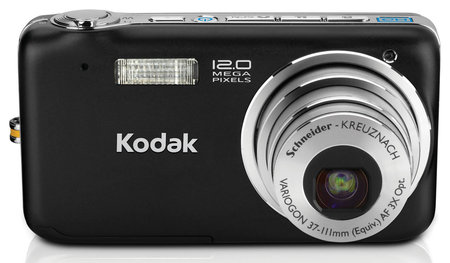 The Kodak EasyShare V1253 digital camera allow consumers to capture HD still images (16:9 aspect ratio) and video (720p at 30fps), while offering a sleek design and simple-to-use controls. Equipped with 12MP resolution, a 3X Schneider-Kreuzna CH optical zoom lens and Kodak Perfect Touch technology, Kodak EasyShare V1253 digital camera provide exceptional image quality for every shot.


The 7-megapixel Kodak EasyShare ZD710 a versatile, fully-automatic zoom digital camera with 10x optical zoom and high ISO received accolades for its energy efficient design in the Eco-Design and Sustainable Technology category.

The Innovations 2008 Design and Engineering Awards, sponsored by the Consumer Electronics Association and endorsed by the Industrial Designers Society of America, honors superior design and engineering among the year's most technologically advanced products.
---
---
---